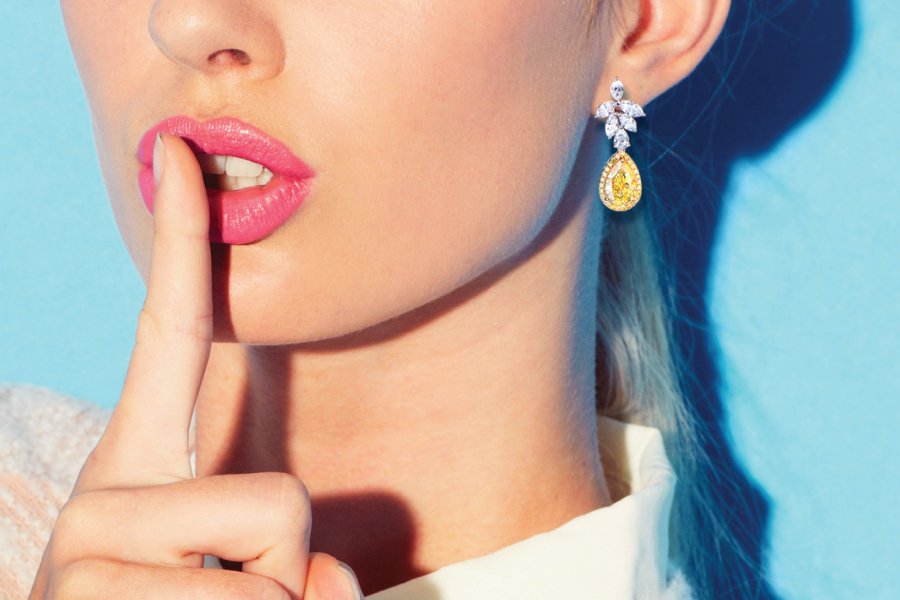 Diamond Stud Earring Settings Explained
What's the fastest way to look and feel completely put-together? Add a pair of diamond earrings.
Diamond stud earrings are one of the most versatile jewelry items available. Diamond studs are called classics for a reason: they never go out of style, no matter what day, month, or year it is. Whether you're heading to the supermarket or attending a twelve-course prix-fixe meal at a 3-Michelin Star restaurant, diamond studs will make you feel effortlessly elegant.
You're attempting to decide on a pair of diamond stud earrings, but aren't sure what kind of setting to go for? Let's look at the different types of diamond earring stud settings available, as well as when and how to wear them, so you have a better understanding of just what you are shopping for.
Diamond stud settings are categorised based on how the stones are held and the shape or style of the setting.
Diamond Stud Settings for Different Stone Holds
Earring settings fashioned with prongs or bezels are the most common styles you'll see.
With three or more prongs, prong settings hold the diamond in place (three and four prongs are the most popular choice for diamond stud earrings).
The downside of these settings is that the diamond is more exposed to damage and can fall out more readily. The more prongs there are, however, the more secure the stone will be and craftsmanship counts, as more care will be taken to ensure the best possible 'hold' on the stone when prong settings are created by a skilled jeweler.
Bezel settings hold diamonds in place using a metal band that completely or partially surrounds the stone. Although this setting is safer than prongs, some people feel that bezels obscure a larger percentage of the diamond than prongs and dislike the idea of obscuring their beautiful diamond in any way.
Diamond Stud Earring Settings and Personal Style Preferences
There are three main types of diamond stud earring settings, often known as styles, in terms of shape:
Martini-style settings are fashioned like a cone, and when viewed from the side, their V-shape resembles a martini glass.Because the diamond is close to the ear in this setting, the earring is less likely to droop.
While this is a classic, elegant look, some people dislike the conical form of the martini setting because they feel it digs into and stretches their ear holes.
When compared to martini-style settings, basket-style settings have a flat base and the stones are often situated farther from the ear.
If you're worried about martini-style studs digging into your ears, this setting is a great alternative.
Crown-style settings have a flat bottom as well, but they are more solidly built due to the use of more metal than diamond stud earrings that make use of basket-style and martini-style settings.
However, the diamond will be less visible as a result of this. Crown-style settings also place the stones further out from the ear, making the stud more likely to droop when worn.
Diamond Stud Earrings and Metal Choices
White gold, yellow gold, and platinum are the most common metals used to create settings for diamond studs settings. Let's look at what each of these metals is best suited for:
Yellow gold is a soft metal, and the higher the karat, the easier it is to scratch and bend.
This metal is appropriate for earrings that aren't worn every day. It's also a good choice for lower-color-grade clear diamonds, as the yellow gold helps to hide the yellowish tints in these stones.
Because white gold is coated with rhodium, which gives additional hardness and protection, it is more durable than yellow gold. This material is ideal for earrings that will be worn frequently, as well as colorless or almost colorless diamonds with no noticeable hues.
Platinum is more durable than both yellow and white gold, and because of this, it is one of the best choices for earrings that you will wear every day.
However, it is more expensive than gold. Platinum, like white gold, is unsuitable for diamonds with obvious yellowish tints because its white color will draw attention to them. This does mean, however, that if you have chosen a fancy color yellow diamond, it will showcase the stone to the best effect.
Diamond Stud Earring Settings By Occasion
The best setting for visibility and placing of diamonds:
If you want diamond studs that will sit properly on your ears without drooping, the martini-style earring setting is the ideal option, especially if the diamonds are larger.
It is also the setting that allows the diamond to be most visible, and if you choose a pair with prongs, you will be able to see more of the stone than if you choose a model with bezels.
The most durable diamond stud earrings setting:
Whether you're buying a martini, basket, or crown setting, a platinum setting is one of the best options for longevity and durability.
Although this metal can be scratched, it wears down considerably less than gold and is scratch resistant. It is also a metal that, in terms of color, goes with anything.
The safest diamond earring setting
Choose a bezel setting if you want to safeguard your diamonds from accidental knocks and make them less prone to fall out of the mounting. This is a better option than a prong setting if safety is a top priority. Often, if you plan on purchasing a pair of diamond stud earrings for everyday wear, a bezel setting is the best choice.