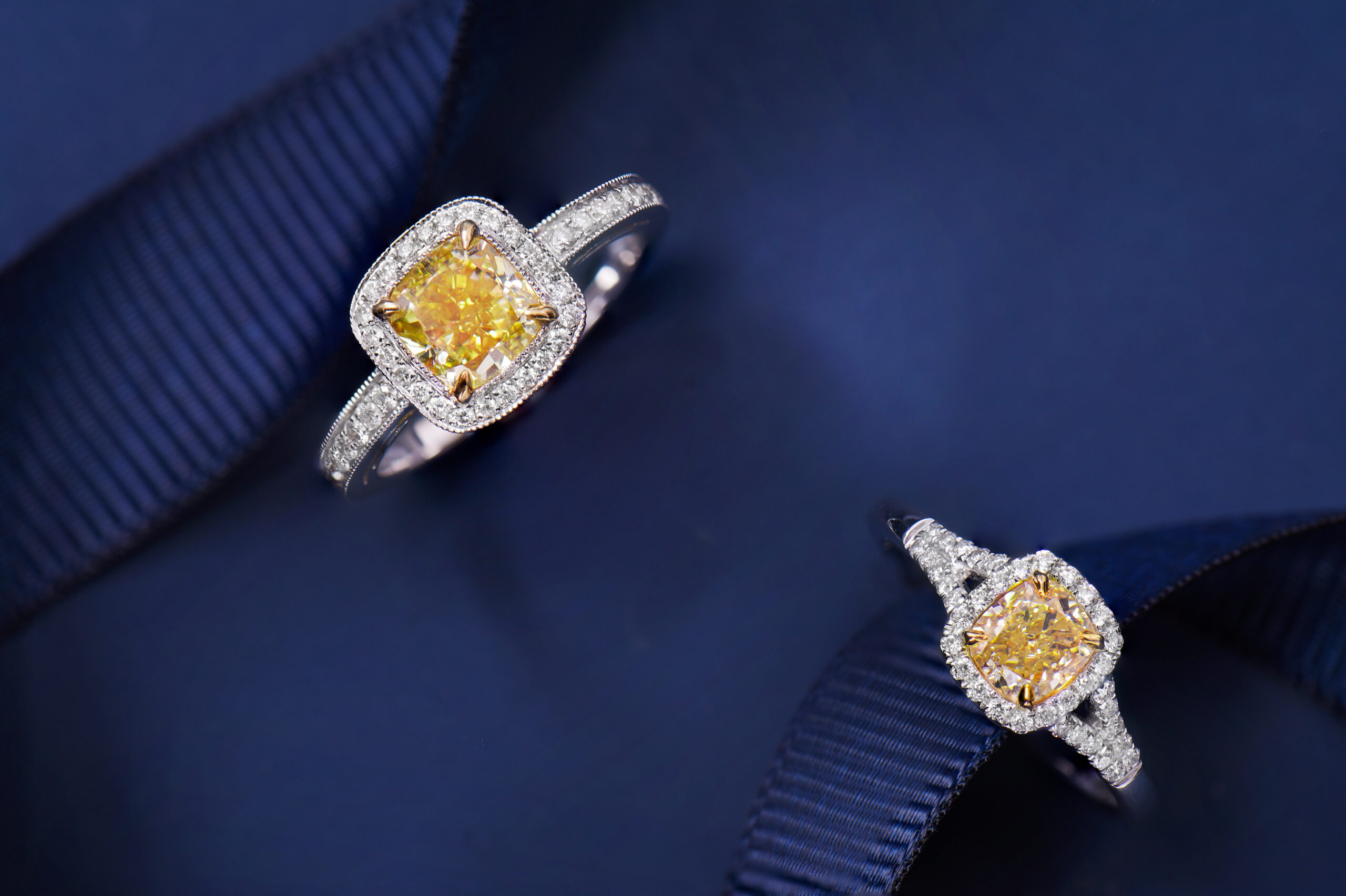 Yellow Diamond Jewellery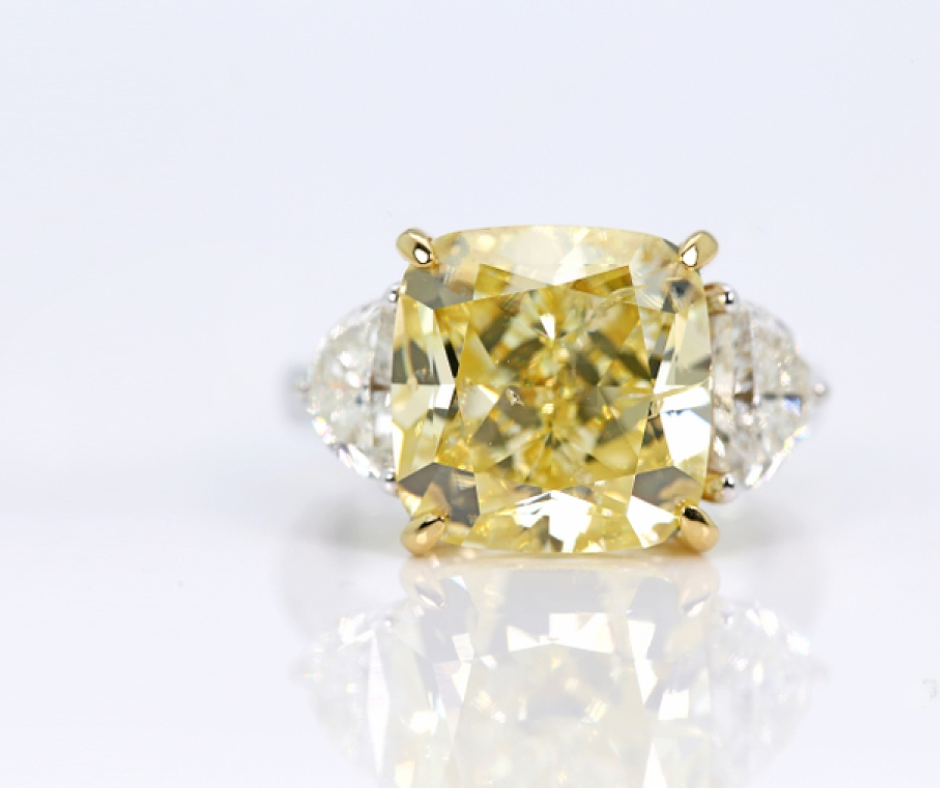 Top 10 Best Yellow Diamond Jewellery Designs For Any Woman
In the world of exquisite gemstones, yellow diamonds are said to shine bright like the sun. Their vibrant and captivating hues make them a popular choice for those seeking to make a bold and elegant statement.
Research has shown that out of every 10,000 diamonds that are mined and nearly colorless, only one natural fancy color diamond is found. Among the various natural colored diamonds, such as blue, orange, pink, and red, to mention a few, yellow diamonds are the most prevalent, accounting for approximately 60% of fancy color diamonds. However, Yellow Diamonds are still rare in comparison to white diamonds.
Whether you're looking to add a touch of glamour to your everyday ensemble or searching for the perfect piece to complete a special occasion look, yellow diamond jewelry is a timeless and luxurious choice.
Join us as we explore the top 10 best yellow diamond jewellery designs that are sure to dazzle any woman.
Dazzling and Timeless: The Best Yellow Diamond Jewellery Designs for Every Woman's Style
1. Yellow Diamond Stud Earrings
Yellow diamonds derive their distinct color from the presence of nitrogen molecules, making them a symbol of prosperity and achievement. Due to their rarity, they are highly coveted additions to fine jewelry collections and are even considered valuable investments in the luxury market.
Nothing exudes elegance and sophistication quite like a pair of yellow diamond stud earrings. These timeless classics are perfect for any occasion, from a casual brunch to a glamorous evening event.
The brilliance of the yellow diamonds adds a touch of warmth to your face, instantly brightening your complexion and enhancing your natural beauty.
Yellow diamond studs are available in a variety of carat weights and settings, allowing you to find the perfect pair that suits your style and budget. Curious to find your perfect match? Let our experts guide you.
2. Yellow Diamond Halo Necklace
The significance of wearing a halo necklace is a deeply personal experience that can differ based on individual beliefs and principles. However, for many, this style of necklace is associated with notions of luminosity, safeguarding, and spirituality. Yellow diamonds, on the other hand, symbolize love, optimism, and the perpetuation of love and happiness. Much like the color itself, which exudes joy, cheerfulness, and wisdom. When these two elements are combined, they create a unique piece of jewelry brimming with extraordinary energy and significance.
For a show-stopping piece that will turn heads wherever you go, a yellow diamond halo necklace is a must-have. The central yellow diamond is encircled by a halo of smaller white diamonds, creating a breathtaking contrast that showcases the beauty and brilliance of the yellow stone.
This style of necklace is a statement piece that will elevate any outfit, from a little black dress to a simple white blouse. The halo design adds a touch of glamour and sophistication, making it a perfect choice for special occasions or as a stunning gift for a loved one.
3. Yellow Diamond Tennis Bracelet:
Add a touch of glamour to your wrist with a yellow diamond tennis bracelet. The seamless row of yellow diamonds set in a delicate chain creates a stunning and captivating effect.
This timeless piece is perfect for both formal and casual occasions, effortlessly elevating your style. Yellow diamond tennis bracelets are available in various carat weights and designs, allowing you to find the perfect bracelet that suits your personal taste and budget. Explore our collection now to find your preferred design.
4. Yellow Diamond Cocktail Ring:
Make a bold statement with a yellow diamond cocktail ring. The vibrant yellow stone set amidst a cluster of white diamonds creates a captivating and eye-catching design.
This glamorous ring is perfect for special occasions, adding a touch of luxury and sophistication to any ensemble. Yellow diamond cocktail rings come in various settings and styles, from vintage-inspired designs to modern and contemporary creations.
Choose a ring that speaks to your individuality and complements your personal style.
5. Yellow Diamond Drop Earrings:
For those who love a touch of drama, yellow diamond drop earrings are the perfect choice. The elongated design with a yellow diamond at the center is both elegant and eye-catching.
These earrings are perfect for adding a touch of glamour to a formal gown or a chic cocktail dress. The movement of drop earrings adds an element of playfulness and sophistication, making them a versatile accessory for any occasion.
6. Yellow Diamond Pendant:
A yellow diamond pendant is a versatile and timeless piece that can be worn with any outfit. Whether it's a simple solitaire pendant or a more intricate design, the yellow diamond adds a pop of color and elegance to your neckline.
This piece can be worn on its own or layered with other necklaces for a trendy and fashionable look. Yellow diamond pendants come in various shapes and sizes, allowing you to find the perfect pendant that reflects your personal style and captures your unique personality. Elevate your style and make a statement with our stunning collection.
7. Yellow Diamond Bangle:
The perfect accessory to elevate your wrist game, a yellow diamond bangle is a must-have for any jewelry lover. The combination of yellow diamonds and white diamonds in a sleek and modern design creates a stunning and contemporary piece.
This bangle can be worn alone or stacked with other bracelets for a fashionable and chic look. Yellow diamond bangles are available in different widths and styles, allowing you to find the perfect bangle that suits your personal preference.
8. Yellow Diamond Cluster Earrings:
For a unique and eye-catching design, yellow diamond cluster earrings are a great choice. The cluster of yellow diamonds creates a captivating and intricate pattern that is sure to make a statement.
These earrings are perfect for adding a touch of glamour to a casual outfit or complementing a formal gown. Yellow diamond cluster earrings come in various sizes and shapes, allowing you to find the perfect pair that suits your personal style and preference. Shop now and add a touch of glamour to any outfit, whether casual or formal.
9. Yellow Diamond Halo Ring:
A yellow diamond halo ring is a timeless and elegant choice for any woman. The halo of white diamonds surrounding the yellow diamond creates a stunning and radiant effect.
This ring is perfect for engagements, anniversaries, or as a special gift to celebrate a milestone. Yellow diamond halo rings come in different settings and styles, allowing you to find the perfect ring that symbolizes your love and commitment.
10. Yellow Diamond Pendant Necklace:
A yellow diamond pendant necklace is a classic and versatile piece that can be worn every day. The simplicity of the design allows the yellow diamond to take center stage, adding a touch of elegance and sophistication to any outfit.
This necklace is perfect for adding a pop of color and sparkle to your everyday style. Yellow diamond pendant necklaces come in various chain lengths and designs, allowing you to find the perfect necklace that suits your personal style and preference. Explore our range of captivating designs.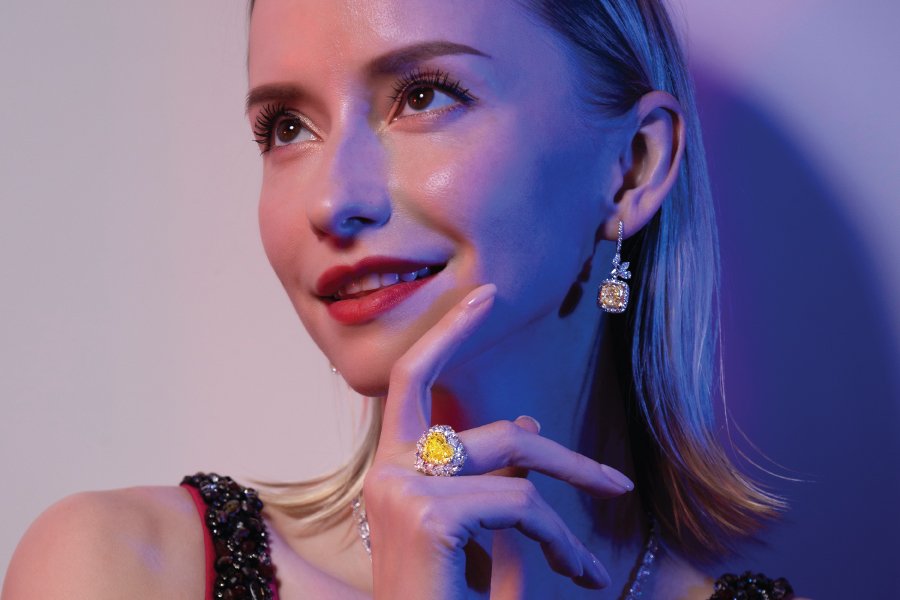 Yellow diamond jewelry is a timeless and luxurious choice that adds a touch of glamour and elegance to any woman's collection. From the classic stud earrings to the show-stopping cocktail rings, there is a yellow diamond design to suit every style and occasion. 
Whether you're attending a black-tie event or simply want to elevate your everyday look, yellow diamond jewelry is sure to dazzle and delight. Indulge in the brilliance and beauty of yellow diamond jewelry and let it be a reflection of your unique style and personality.