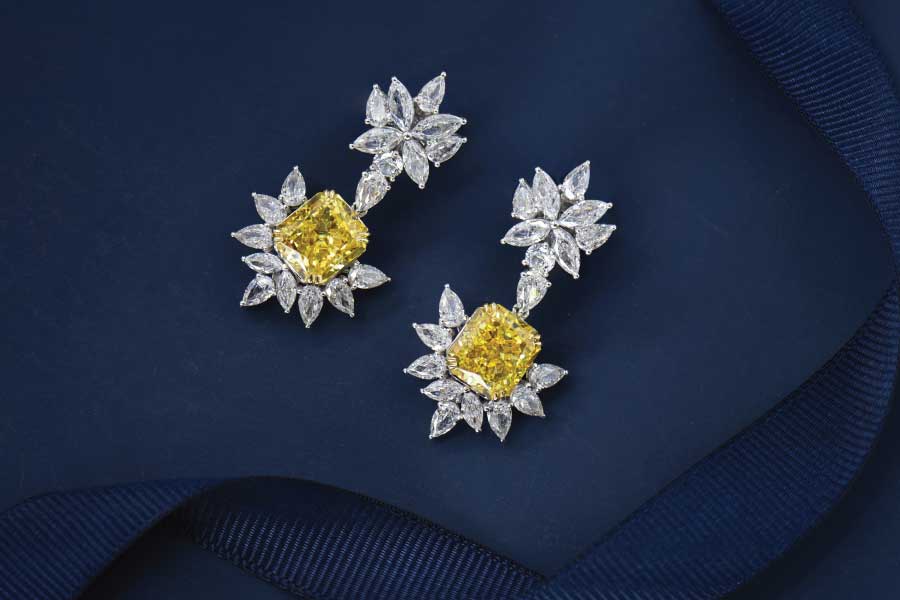 Yellow Diamond Earrings: A Radiant Choice for Elegance and Style
Mix and Match Your Outfit With These Top Yellow Diamond Earring Designs
Are you ready to add a touch of elegance and playfulness to your outfit? Look no further than yellow diamond earrings! These stunning pieces of jewellery not only exude class but also bring a fun and vibrant energy to any ensemble.
Did you know that fancy yellow diamonds are often referred to as Canary Yellow Diamonds because of their vibrant yellow colour? However, not all natural yellow diamonds possess that deep yellow shade. There are various aspects to consider when it comes to fancy yellow diamonds, and each diamond is distinctive in its own way, including its colour.
Research shows that the color appearance of a yellow diamond can vary based on its tone and saturation, encompassing shades ranging from brownish-yellow to orangey-yellow to greenish-yellow, among others. The label "Fancy Yellow" is specifically assigned to the most vivid and intensely yellow diamonds. Among all natural yellow diamonds, those graded as Fancy Yellow are the most valuable and highly sought after.
In this blog, we'll explore the top yellow diamond earring designs that will elevate your style game and have heads turning wherever you go. So, let's dive in and discover the perfect pair to match your unique personality and fashion sense.
Elevate Your Style with Versatile Yellow Diamond Earring Designs
1. Classic Studs: Timeless Elegance
When in doubt, go for the classics! Yellow diamond stud earrings are the epitome of timeless elegance. With their understated yet captivating charm, they effortlessly enhance any outfit.
For millennia, stud earrings have served as a prominent and enduring form of jewelry, tracing their origins back approximately 7,000 years to ancient Asia. In addition, the ancient Egyptians adorned themselves with stud earrings as a symbol of their elevated social status and affluence.
These studs feature a single yellow diamond set in a simple prong or bezel setting, allowing the diamond's natural beauty to take center stage. Yellow diamonds are prized for their rich and vibrant hue, adding a touch of warmth and sophistication to your look.
The simplicity of the design allows you to mix and match them with any style, making them a must-have in your jewelry collection. Pair them with a crisp white shirt and jeans for a casual yet sophisticated daytime look, or wear them with a little black dress for an evening of elegance.
To make your earrings the focal point, particularly when you choose not to wear a necklace, opt for a plunging V-neck or boat neckline. This style of neckline will accentuate your earrings and draw attention to them.
Yellow diamond studs are versatile enough to be worn on any occasion, from a day at the office to a special event. Their timeless appeal ensures that they will never go out of style.
2. Dazzling Drops: Glamorous Allure
For those seeking a touch of drama and sophistication, yellow diamond drop earrings are the perfect choice. These beauties gracefully dangle from your ears, catching the light with every movement.
During the latter part of the 18th century, drop earrings adorned with diamonds gained immense popularity due to their compatibility with the elaborate and elevated hairstyles of the time. As the 19th century progressed, earrings grew increasingly longer, with some extending all the way down to the shoulders.
Yellow diamond drop earrings come in various styles, from simple solitaire drops to intricate designs featuring cascading diamonds. The combination of yellow diamonds and the mesmerizing drop design creates a captivating and glamorous allure.
Whether you're attending a cocktail party or a red carpet-event, these glamorous drops will make you the centre of attention. The vibrant yellow hue of the diamonds adds a pop of colour to your outfit, making a bold fashion statement. Pair them with an elegant up-do and a little black dress, and you're ready to steal the show! The versatility of yellow diamond drop earrings allows you to dress them up or down, making them a versatile addition to your jewellery collection. Add a touch of Hollywood glamour to your style with these stunning earrings.
3. Playful Hoops: Effortless Chic
If you're in the mood for something fun and trendy, yellow diamond hoop earrings are here to make a bold statement. These versatile accessories add a touch of chicness to any outfit, whether it's a casual brunch or a night out with friends.
In the past, hoop earrings were worn by royalty to symbolise their authority and position in society. However, today, hoop earrings are seen as a representation of solidarity and resilience. These earrings make a bold statement, much like the confident and empowered women who choose to wear them.
Yellow diamond hoop earrings come in various sizes and designs, from delicate and minimalist to bold and extravagant. The circular design symbolises infinity and unity, making them a meaningful addition to your jewellery collection. The vibrant yellow diamonds set in hoops create a striking contrast, catching the light from every angle.
Pair them with a sleek ponytail and a flowey summer dress for a boho-chic look, or wear them with a leather jacket and jeans for an edgy vibe. The possibilities are endless with yellow diamond hoop earrings, so don't be afraid to experiment and showcase your unique style. These playful hoops are perfect for adding a touch of fun and personality to your outfit. Explore our collection to turn heads and let your inner fashionista shine!
4. Intricate Clusters: Unique and Eye-Catching
For those who crave a truly unique look, yellow diamond cluster earrings are the way to go. These intricate designs feature a cluster of yellow diamonds that create a mesmerising pattern, sure to catch everyone's attention. The cluster can be arranged in various shapes, such as flowers, stars, or geometric patterns, adding an artistic flair to your outfit.
Yellow diamond cluster earrings are perfect for adding a touch of glamour to a casual outfit or complementing a formal gown. The intricate design and the play of light on the diamonds create a captivating and eye-catching effect.
The practice of clustering gemstones, frequently diamonds, together in a single setting first emerged during the Georgian era. This trend became particularly prominent during the Victorian era.
Pair them with a sleek updo and a little black dress for a glamorous evening look, or wear them with a bohemian maxi dress for a whimsical daytime ensemble. Yellow diamond cluster earrings are the epitome of luxury and will make you feel like a true fashion icon. Embrace your individuality and let your style shine with these captivating and unique designs.
Yellow diamond earrings are the perfect accessory for those who want to mix and match their outfits with flair. Whether you choose classic studs, dazzling drops, playful hoops, or intricate clusters, these designs will elevate your style and bring a touch of class and fun to any ensemble. Yellow diamonds add a vibrant and warm hue to your look, making a bold fashion statement.
Investing in yellow diamond earrings is not only a way to enhance your style but also a way to express your personality. The versatility of yellow diamond earrings allows you to experiment with different looks and create unique combinations. Whether you prefer a timeless and elegant look or a bold and glamorous one, yellow diamond earrings have got you covered.
So, don't be afraid to shine bright and show off your unique personality with these top yellow diamond earring designs. Get ready to turn heads, make a bold statement, and embrace your inner fashionista! Mix and match your outfit with these stunning yellow diamond earrings and let your style speak volumes. Elevate your fashion game and exude confidence with these dazzling accessories.