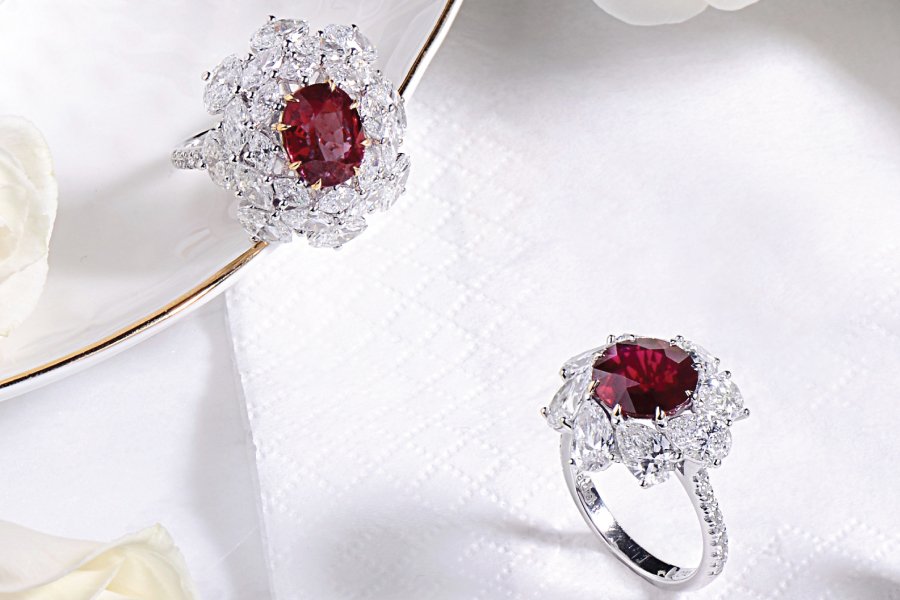 Why Choose a Custom Diamond Engagement Ring?
Let's get one thing straight: every committed relationship and the emotion that comes with it is unique. You may and should choose an engagement ring that is as close to a perfect match for both your love and the finger that will wear it for the rest of your life as possible.
Because — you guessed it — every one of us is unique, the characteristics of that distinctly ideal ring differ from couple to couple. Many people will find the ideal engagement ring by selecting and combining specific aspects such as diamonds or gemstones, metal, setting, and band style, and then mixing these fundamental building blocks to create an infinite number of genuinely unique styles. Others will wish to add distinctive touches to their rings to make them even more unique.
If you have a specific vision for your ring and can't find it anyplace, you might want to consider a custom design. Every engagement ring has a story to tell, but if you want yours to be remembered for decades after you say "I do," a custom engagement ring may be the way to go.
Custom Diamond Engagement Ring Considerations
Before committing to a plan to custom create your own diamond engagement ring, weigh the benefits and drawbacks:
There are indeed numerous advantages to designing a custom engagement ring:
Your ring will feel innovative and inspired, a true representation of your own individuality.
It will reflect your values and interests.
There will be no one else with a ring like yours.
A really unusual design will attract attention and be a topic of discussion for years to come.
You can create a symbol of who you are as a couple by designing matching rings.
However, you should be aware of the trade-offs you make when designing a bespoke ring:
It is more costly. Expect to pay up to three times as much for a custom ring as you would for a non-custom ring. How much more is determined by the complexity of the design, how far it deviates from more typical rings, and the jeweler you select.
It takes a little longer. While it's a more extreme example, one well-known actor spent a year working with a designer on his future fiancée's dazzler. Expect a well-thought-out design to take several months from concept to finger on the low end.
It will necessitate additional involvement on your part (many touch-point meetings and a great deal of teamwork).
The jeweler has a say in the final design, as he or she should, as the specialist in precious metals and stones.
You won't be able to see, touch, or feel the ring's weight until it's finished.
Great Things Do Take Time
As we mentioned, it takes far longer to create a custom diamond engagement ring than it does to choose a ring from a jeweler's display case or their online inventory. The procedure entails starting with a blank canvas and then bringing that design to life. You'll have a conversation with the artist to express your design ideas, and you may need to continue the conversation on a number of occasions if you want to change the design the craftsman creates.
An initial design consultation, sketched design, 3D model or computer rendering, design modifications, and the actual manufacturing of the ring are all part of the process. It takes more time and effort to pursue, but ending up with something unique at the end is usually well worth the wait.
Asteria Diamonds offers expert diamond ring design services, and are happy to work with couples and individuals to turn the unique diamonds they choose from us into a one in a million engagement ring.