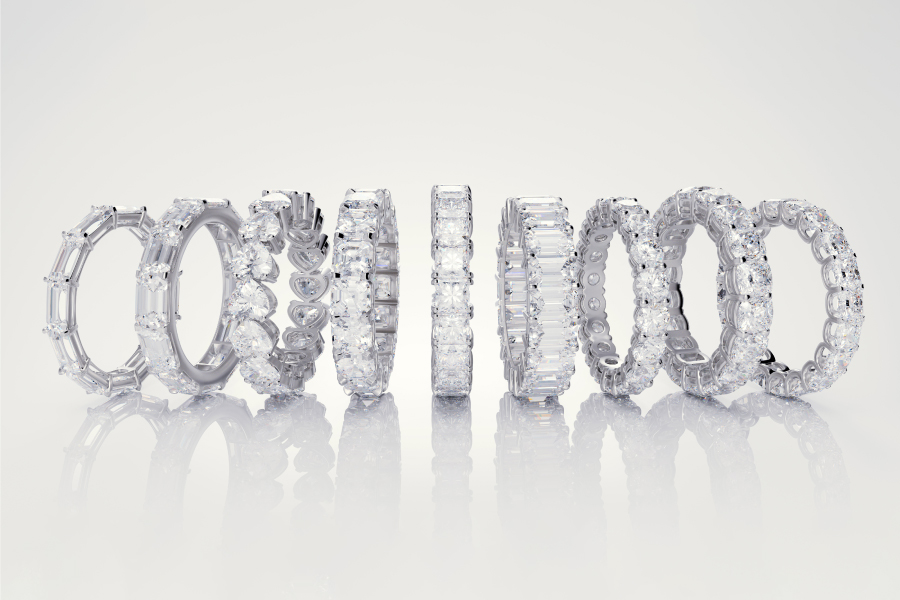 What Is a Baguette Diamond?
Baguette Diamonds
Diamonds are one of the most popular and expensive gemstones in the world. They are known for their clarity, hardness, and ability to refract light. Diamonds come in many different shapes and sizes, but to some people, it can be hard to tell the difference between a baguette diamond and a round diamond. The word 'baguette' is of French origin.
The word refers to a long, thin loaf of French bread. The Baguette cut of a diamond is similar in shape to a baguette in that it is long and rectangular and has many tiny facets. A baguette diamond is frequently used as a side stone or accent stone.
There are many benefits to baguette diamond rings and jewellery. Some of these include:
A baguette diamond ring can be worn as an engagement ring, wedding ring or wedding band or other types of jewellery. It is stunning when set in white gold or yellow gold.
They are very versatile in terms of the types of rings that you can wear in
They are not too big, so they do not look flashy or ostentatious on your finger
Baguette vs Emerald Cut Diamond
A baguette diamond is a square-shaped cut with a long thin shape similar to looking at the French bread in profile. The emerald cut is more rounded and symmetrical than the baguette. It is rectangular, wider on top and narrower towards the bottom. The baguette diamond is one of the most popular cuts in diamonds because it offers an excellent combination of brilliance and fire.
Baguette vs Round Engagement Rings
Round diamonds have been the most popular engagement rings. They are timeless, classic, and elegant. But if you want something different, you meant to consider baguette diamond engagement rings instead. They tend to be smaller and less expensive than round ones - which is great if you're on a budget or want something more modern-looking!
Baguette Engagement Ring Settings
Three-Stone Baguette Rings
Three-stone rings are the most popular type of ring. They consist of three stones set in a triangular pattern. The most common type is the three-stone baguette ring, which has a three-sided shape and consists of round diamonds set in a row on either side of each stone.
Channel Set Baguette Rings
Channel set baguette rings are an alternative to traditional diamond cuts like the round cut diamond engagement ring.
Channel set baguette rings are diamond rings with a row of tapered baguette diamonds along with the band. The row of diamonds encircles the entire band and is set in a channel on either side of the main stone. The pink sapphire and baguette-cut diamond band set in the channel is a popular choice for an engagement ring. Another example is a straight baguette cut diamonds in white gold.
Vintage Baguette Rings
Vintage baguette rings are a great way to add a little bit of class to your outfit. They are timeless, and the best part is that they can be found at all different price points.
Baguette Eternity Bands
A baguette eternity ring is a thin diamond band that goes around the finger. It is usually a thin metal strip with diamonds embedded on the surface. The diamonds are usually on both sides of the band to see them from either side.
Ballerina Diamond Rings
Ballerina rings are inspired by the flowing movement of a dancer's tutu. Typically, they feature a central stone and accent diamond or a cluster of stones surrounded by a halo of baguette diamonds.
Baguette diamonds are not as flashy as other traditional diamond cut diamonds, such as princess cut diamonds, brilliant-cut diamonds, or emerald cuts. But they can still be beautiful if they are cut well and set in the right jewellery setting. The best way to find a baguette diamond right for you is by looking at what you want your ring or another piece of jewellery to say about your personality. If you like a simple, understated look and are looking for something that can be worn every day, then a baguette diamond is a perfect choice. The baguette diamond's classic and elegant look will make it a perfect match for many different types of jewellery, whether it's delicate gold or silver pieces.
Baguette Diamonds: What to Look For
Buying a ring is a big decision, and you want to make sure that you are making the right choice. It is essential to know what you are looking for before going shopping.
You should consider the following things when buying a baguette solitaire ring:
The metal that the ring is made from, such as platinum, 14k white gold or yellow gold
The size of the stone
The shape of the band
The price point
The colour grade of the baguette cut stone or baguette cut diamond is a factor in determining its price. The diamond's colour grade is determined by the absence or presence of colour in the stone. Diamonds with a GIA or AGS grading report are more expensive because they are less likely to be flawed and offer better clarity. A white diamond is an example of a naturally mined diamond that is rare and beautiful. A white diamond is unusual because it will remind you of clouds in the sky.
Another example is the black diamond. This rare type of diamond may clash with the traditional white diamond or clear diamond, but it has recently been taking centre stage as an accent diamond in fine jewelry. Coloured diamonds are also rare and magnificent as a centre stone or accent diamonds. Natural or mined diamonds vs artificial diamonds are also a thing to consider. An artificial diamond is a conflict-free diamond.
How to Care for a Baguette Diamond
Jewellery care is critical. The best way to clean a baguette diamond is to use a toothbrush with water and soap. Do not use any chemicals or abrasives on your baguette diamonds. This is because the bristles are soft enough not to damage the stone's surface but strong enough to remove any dirt or grime that may have accumulated on the stone's surface. You should clean your baguette diamond at least once every six months if you wear it daily. If you only wear it occasionally, you should clean it at least once every year.
The Bottom Line
Buying a baguette diamond can be an investment in your future. You will have something to hand down to your children and grandchildren, but it is not an investment that you should take lightly. There are many advantages and disadvantages of purchasing a baguette diamond; the following are some of the most important ones:
The most apparent advantage of purchasing a baguette diamond is that it is more affordable than other shapes.
It's also easier to find a matching band for this shape and be able to make use of old jewellery settings if you're on a budget.
It's also very versatile and can be worn in any setting or occasion without looking out of place or too flashy.
The disadvantage of this shape is that it doesn't offer as much sparkle and fire as other shapes. It is more difficult to find a baguette diamond that's the same size, shape, and clarity. Also, the most critical factor in buying a baguette diamond is the cut of the diamond, which can be difficult to assess without seeing it firsthand.