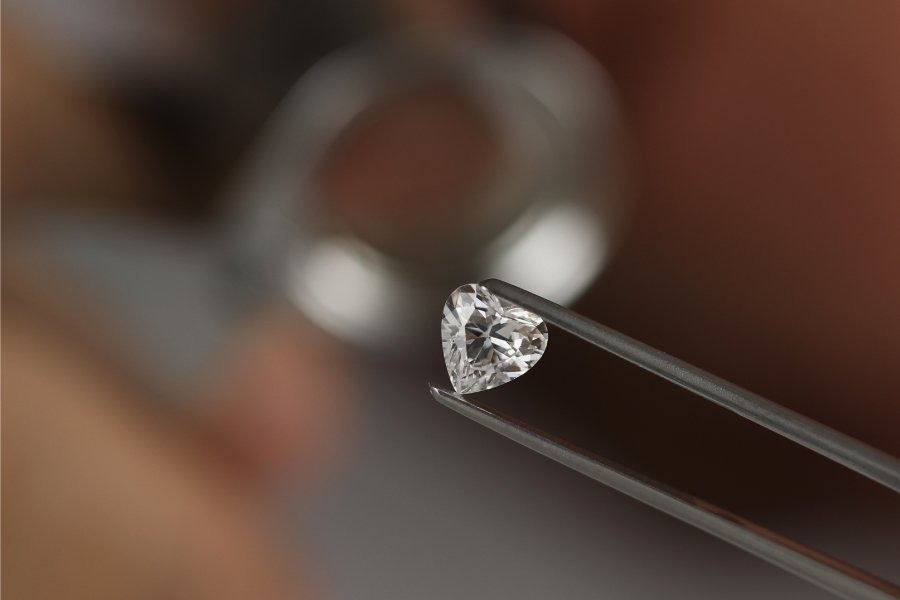 What Does Diamond Accent Mean?
The most popular method of emphasising a diamond centre stone is using other diamonds, just as a diamond can only be scratched by another. To make your engagement ring pop, you need more than just an accent stone; you need skill, understanding, and a creative eye. Have you ever wondered how diamond accents can transform an already beautiful engagement ring into something spectacular? Read on to learn more.
Diamond Accents: What Are They?
The term diamond accent refers to small diamonds embedded in a piece of jewellery alongside a larger stone. In addition to enhancing the overall beauty and brilliance of the piece of jewellery, they also enhance its durability.
A Diamond Shape and ring settings can be adorned with them for added style, elegance, and personality. Diamond Accents enhance the volume and sparkle of a ring with this Round Cut Diamond from James Allen. Diamond Accents complement various Diamond Shapes, such as the Princess Cut, in this 18K white gold ring from James Allen.
The shape, size, colour, and quality of the accents impact the overall beauty of the ring, though they are generally chosen according to personal preference.
Do Diamond Accents Exist?
A real diamond is used in diamond accents. Even though these stones are called accents, it is still natural diamond, graded on the same criteria as diamonds for a centre stone. Like diamonds, accent diamonds are graded for Cut, Color, Clarity, and Carat. Generally, they tend to be smaller and less valuable than other kinds of diamonds.
There Are Several Types Of Accent Diamonds
There are four main s: baguette, small round, trillion, and marquise.   
Baguette Accent Diamonds
There is a difference between a baguette diamond accent stone and a rectangular accent stone. Several baguettes are available, such as a straight baguette or a tapered baguette, where one end of the diamond is narrower than the other, creating a trapezoidal shape.
The symmetry of a straight baguette makes them appear larger than they are so that they can be used as side stones or arranged in a row along the band. Asscher cuts, brilliant round diamond cuts, and marquise cuts are traditionally highlighted with straight baguettes.
A tapered accent, on the other hand, is usually placed in such a way that it follows the natural curve of the ring. A half-carat accent is usually found either as a side stone or as part of a three-stone ring setting. In addition to emerald cuts, princess cuts, radiant cuts, and brilliant round cuts, these diamonds are popular additions to a variety of centre-stone cuts. 
Round Accent
The ability to pair effectively with any diamond shape makes round diamond accent stones some of the most versatile diamond accents. The wearer's style and personality can be reflected in settings that include small round diamonds. You've come to the right place if you're looking for flexibility.
There are three types of round accent diamonds based on their carat weight: stars (or less than .02 carats), whole cuts (0.02 to 0.07 carats), and melee (0.08 to 0.18 carats). Halo settings often use small round diamonds as side stones, and small round diamonds also work well as side stones.
Trillion-Cut Accent Diamonds
Diamond cut in trillion cuts are triangular and are subtly curved to correspond with the slope of the ring. Usually used as side stones on diamond accent rings, a trillion-cut diamond offer a departure from more common diamond shapes. It is common for them to appear more significant than their carat weights, just as baguettes do.
Accent stones have a similar cut to radiant diamonds, giving you the most sparkle for your money. Despite the trillion cut's extraordinary light show, there's a downside: It can outshine centre stones with less brilliance. Thus, it is essential to choose accent that can keep up with trillion accent . All diamond types are appropriate, including radiants, round brilliants, and ovals. 
Marquise Accent Diamonds
The last type of diamond is the marquise diamond. There is a point at the end of each curved side of these diamonds, creating an oval shape. Marquise accent stones create a striking contrast when paired with angular centre stones, such as the emerald cut. The marquise's oval shape also compliments round diamonds exceptionally well, so I don't think it's only suitable for square diamonds.
Diamond Accent Prices
A diamond's price is often determined by its carat weight, so accent diamonds carry a lower value than a diamond used as a centre stone. It is also possible to get a lower grade in some categories with accents, bringing the price down.
Consumers rarely purchase diamonds on their own. A jeweller typically purchases them wholesale in bulk, often hundreds at a time. Accents are rarely priced individually, so it's uncommon to see them. Their price will instead be based on their carat weight. Accents with average grades of colour and clarity usually cost $300-400 per carat, and higher-quality cuts can cost up to $1,000 per carat.
Conclusion
As a standalone accent, diamonds do not stand out. They can detract from or elevate a larger centre stone when placed next to it. The centre diamond should always be considered when looking at accents.
Always remember that if it's placed next to a diamond, it should highlight it. Before anything else, pay attention to the exquisite diamond in the centre. You should add diamond accents to your ring to enhance its beauty and glamour.
FAQs
What is the value of accent diamonds?
There are four factors to consider when grading accents: colour, clarity, cut, and carat weight. They are only different in size and visibility, making them less valuable individually. Jewellery buyers hardly ever purchase them on their own.
Does Accent sterling silver exist?
Yes. The diamond accents on these sterling silver earrings add size and sparkle. A dazzling appearance is created by the circular beading surrounding the centrepiece.
Is it worth anything to own a small diamond?
Unlike larger diamonds, melee diamonds are relatively small, weighing between 0.001 and 0.2 carats. Typical smaller diamonds weigh less than half the weight of 0.50-carat diamonds, which cost $1,500 on average.
What is the reason behind the low price of a lab diamond?
Real diamonds take thousands of years to form, which is why a lab-grown diamond costs less.