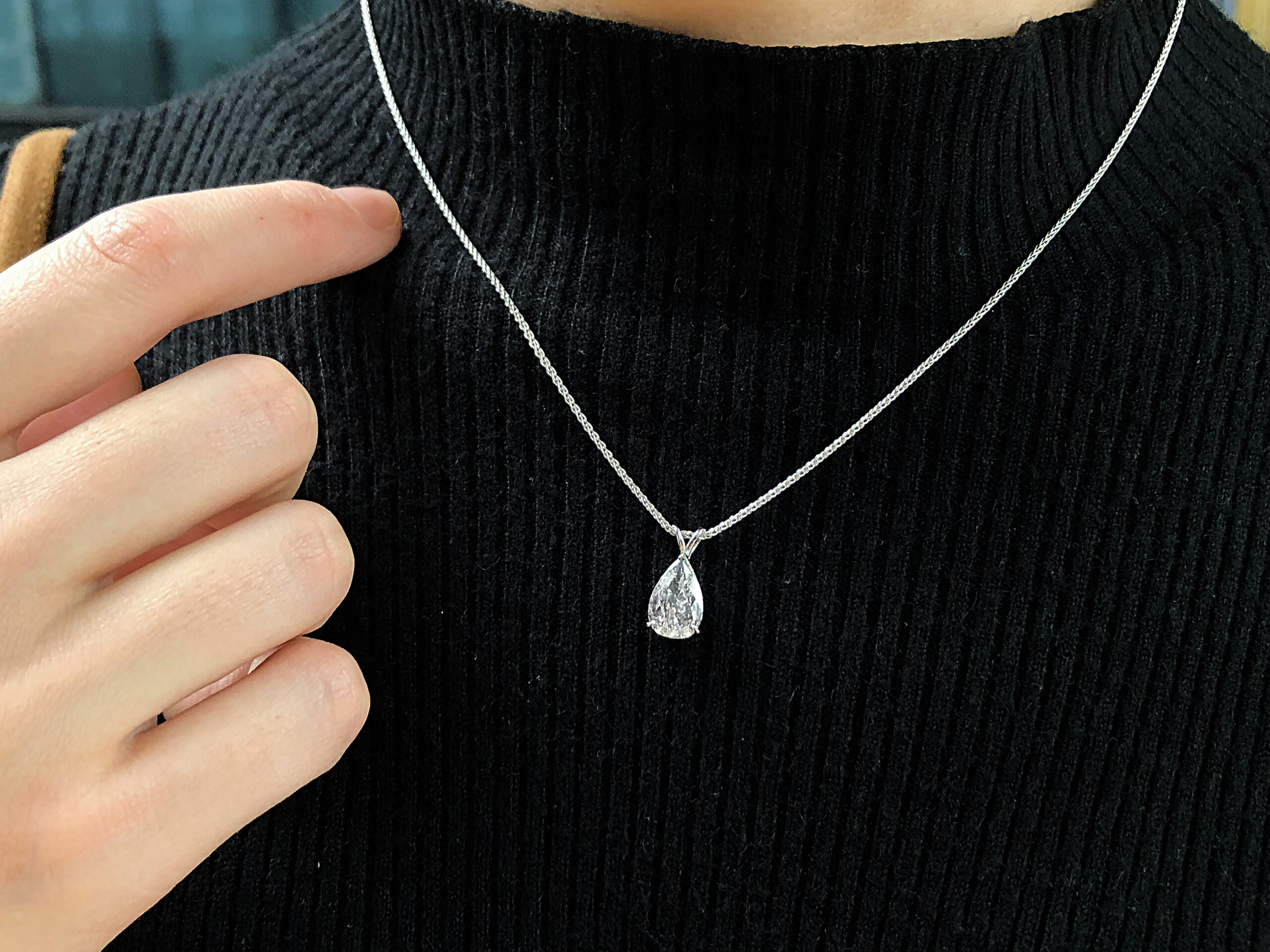 Types Of Pendants
You might feel overwhelmed with all the options available when looking for a new necklace, especially if you enjoy necklace pendants. Regardless, we'll discuss in detail the different types of necklace pendants on the market, as well as your options so that you can choose the right necklace pendant.
You don't have to feel restricted to the simple gold and silver chain necklaces with single focal elements at the front, and you don't have to feel limited to single-strand pendant necklaces.
Pendants: Definition and History
Usually, pendants hang from a necklace, but they can also hang from bracelets and earrings. The necklace with dramatic pendants has been around for thousands of years; ancient artwork shows Egyptians, Greeks, and Romans proudly wearing them. During caveman times, shells and stones were fastened around the neck with cords to form pendants.
Relic reliquaries, which held sacred relics, were often worn on cords around the neck or as devotional jewellery during the Middle Ages. Until the nineteenth century, when they became popular again. They lost popularity in the seventeenth century.
All kinds of materials can be used to make pendants. Various metals are used in jewellery, including precious metals like gold, silver, platinum, and non-precious metals plated with gold or silver. Brass, copper, iron, nickel, titanium, and lead-free pewter are non-precious metals. You can choose from the following types of pendant necklaces.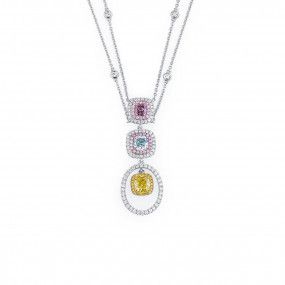 Common Types Of Pendants
Amulet: What Is It?
There are many different types of amulets. Silver and gold are the most common metals for amulets, but they can also be found plated with silver or gold. In addition to diamonds and gemstones, zirconia and simulated lab-created gemstones can also be adorned with precious metal amulets.
Amulets come in many forms, but they are all considered protectors and defenders against various kinds of harm. Spiritual powers are believed to be contained in amulets that protect you against danger, evil, and other harmful circumstances. Travellers are believed to be protected by Saint Christopher pendants, for instance. Many people with Epilepsy wear Saint Christopher's medal for protection or as a Confirmation gift. The saint amulet is also effective in protecting against floods and storms. Soldiers wear it as an amulet of protection.
Facts About Cameo
Cameo pendants are exquisite carvings with raised relief profiles. We are most familiar with the bust of a beautiful woman. Carnelian shell, mother-of-pearl, sardonyx shell (rare) or agate are the most common materials used in carving cameos. Resin is used in some contemporary ones. They are prized treasures because of their attention to detail. Contemporary scenes are often reflected in modern cameos, breaking away from traditional silhouettes.
In addition to flowers, angels, children, and various scenes, there are cameos of many other things. You will love this pendant if you are looking for a pendant that is stylish and classic. Whether you are wearing a dress or a business suit, this will complement both. A formal outing, such as a wedding, can be worn with it.
Crystals: What Is It?
Crystal pendants are one of the most stunning types of necklace pendants, regardless of whether you believe in astrology. The crystals and metal necklace chains should have complementary colours.
If you'd like to feel a little more elegant and dignified on a night out or a dinner date, crystal pendants are perfect.
It is possible to find crystal pendants in various sizes and colours, and you can wear them with pretty much anything.
Facts About Fashion
Another type of necklace pendant is this one, a prevalent type. As small creative pieces, fashion pendants are made of precious and semiprecious and nonprecious stones.
There are a variety of gemstone pendants available, including pearls, diamonds, crystals, emeralds, rubies, and others. Typically, fashion pendants hang freely from necklaces or chains. It is typically worn as an ornamental accessory or as a statement piece.
Functional: What Is It?
The functional pendant makes a great conversation piece worn as a novelty item but can also be helpful in an emergency. Among them are magnifying glasses, miniature folding pocket knives, scissors, monocles, compass, whistles, vials, yarn cutters, and pill boxes. It is even possible to place your prayer inside a prayer box and latch it shut so that it serves as a functional pendant. An engraved prayer or poem on a couple of gold or silver pages makes a good gift.
Enamel, precious metals, gemstones, and diamonds are used to decorate many functional jewellery designs. All kinds of functional pendants can be found made from a variety of materials. These functional jewellery pieces can be given as gifts to people who are seamstresses (scissors), sailors (compass), knitters (yarn cutters), etc.
Facts About Cross
You won't go wrong with your purchase of a cross pendant, which is another popular necklace pendant type. A cross pendant doesn't require you to be religious, and it can be worn with anything.
Therefore, a cross pendant necklace is a must-have for any jewellery collection. A great thing about this necklace pendant style is that it comes in various styles, such as plain and even fascinated.
Teardrop: What Is It?
Whenever you're looking for a pendant type that maximises the size and design of the stone, crystal, or bling incorporated into the pendant, the teardrop pendant is your best choice.
A teardrop pendant boasts a stern look, and it is the shape of a teardrop that makes it an attractive jewellery option. As the focal point of the pendant, the stone in the teardrop sets the tone for the entire piece.
Facts About Infinity
Eternity or never-ending is symbolised by the infinity symbol. An often-given pendant representing a love that never dies, this pendant is often given as a token of love. As a piece of jewellery, this pendant often contains a diamond or precious gem as a symbol of loving someone forever.
Locket: What Is It?
Pendants such as lockets are among the most popular types of jewellery. Diamonds are often embedded in the centre of heart-shaped lockets. There is often an engraving of a message of love on the inside or back of a heart. The first name or initials of the owner are often engraved on the heart lockets. You can select a locket in a round, oval, square, or rectangle shape.
Lockets are often adorned with pictures of loved ones or themselves as children. The locket frame is decorated with a photo of the lover and their beloved on each side as a gift from their lover. Locks of hair from a loved one are sometimes kept as keepsakes. Romantic gifts make excellent Valentine's, birthday, wedding, or anniversary gifts. Whether for a christening or a newborn, it's a favourite choice. Mother's Day is the perfect time to give a locket in the shape of a heart.
Facts About Medallion
Medallions are typically the size of coins, although they can be more extensive. Awards, medals, or other forms of recognition can be given in the form of jewellery. In some cases, medallions are blessings or tokens of religious significance. Medallions with unique designs can also be pure fashion pieces of jewellery. In addition to dressing up a casual outfit or enhancing a colourful summer dress, you might consider wearing a medallion with a cloisonne peacock in the centre.
Talisman: What Is It?
An amulet and a talisman are cousins. A talisman is a token imbued with magical properties, unlike a religious amulet. Any material, artificial or organic, can be used for making these magical charms. Usually, talismans are made of metal and feature a specific emblem, symbol, or design, which may include letters or numbers.
The purpose of a talisman is to serve as a magical charm, unlike an amulet. Magical powers are transferred to the wearer to bestow whatever powers are contained in the Talisman. There can be many types of Talismans, such as those representing cultures, mythologies, or ancient designs. Runes, Celtic warrior shields, sigils, king Solomon's seal, and other magic symbols might be found here.
Facts About Hamsa
Originally from the Middle East, this pendant is in the shape of a Hamsa, which means the hand of God. One who wears the Hamsa pendant is blessed with good health and happiness.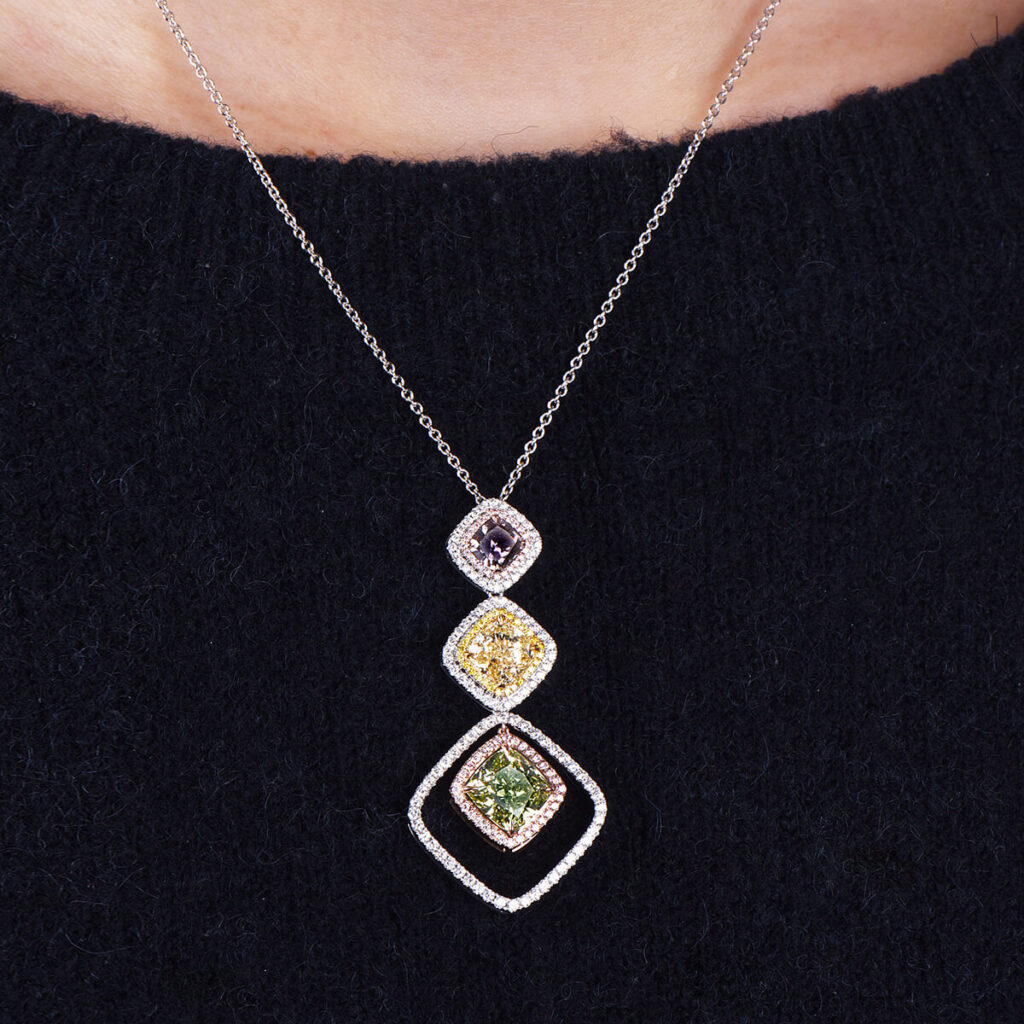 General Symbols for Pendant
Some pendant symbols aren't associated with specific pendant types, such as lockets and amulets. As symbols of identity or belonging to a particular sect, culture, religion, or something a person loves, these pendants represent who the owner is or what they identify with.
Faith-based Symbol
Some people wear pendants symbolising their faith as a way to identify themselves. It is common to wear these jewellery pieces to honour or claim a particular religious or philosophical belief. It is not uncommon to find crosses, the star of David, the Virgin Mary, and various icons of different faiths among these symbols. Symbols of religion can be simple or embellished with gold, gems, or enamel.
Some people wear religious symbols as fashion statements rather than as signs of faith. Ancient Egyptian symbols like the ankh or the cross can be seen as oversized versions of these symbols.
Cultural Symbols
Cultural heritage can also be honoured with pendants. It would be a wonderful gift for someone of Irish descent to receive a pretty Claddagh, the Irish symbol of friendship, love, and loyalty. There are many options for pendants, including colourful enamel pieces in the shape of countries' flags, such as the flags of the United States and Puerto Rico.
Self-expression Symbol
One can express their interests and personalities through pendants. One shaped like a musical half-note might appeal to an artist, but one with a striking geometric design might appeal to a pianist. Doting Black Lab owners might wear charms in the shape of their dog, and mothers might wear charms shaped like their children. A volleyball, a horse, scissors and thread, a book, a bird, a cat - there is something for everyone here.
Conclusion
Here are the best types of necklace pendants you should consider investing in. It's possible that you only wear a pendant on special occasions or for special occasions, such as holidays or anniversaries.
You can also find the available pendants that we offer here!
FAQs
How do you refer to large pendants?
Necklaces that end with a tassel or pendant are called lavalier necklaces. Additional pendants may dangle from the central stone. Louise de La Vallière, a mistress of Louis XIV who wore lavaliers often, gave the lavalier its name in the 1600s.
How should a pendant be chained?
Pendant necklaces can be made with simple chains such as cable, Figaro, curb, wheat, and box chains. In addition to their high durability, these necklaces are timeless and minimalistic, which makes them suitable for most pendant styles. The delicate nature of herringbone and snake chains makes them unsuitable for pendants.
A pendant's top is called what?
Bails or bales are the parts of pendants that hang over chains. Chain is held in place by this. Metal pendants are usually attached with bails by jewellers.
How does a pinch bail work?
Once bail is pinched or crimped closed around a pendant's stringing hole, its prongs fit into the ends of the hole. Your pendant can easily be attached to a necklace or other jewellery once the bail is installed.