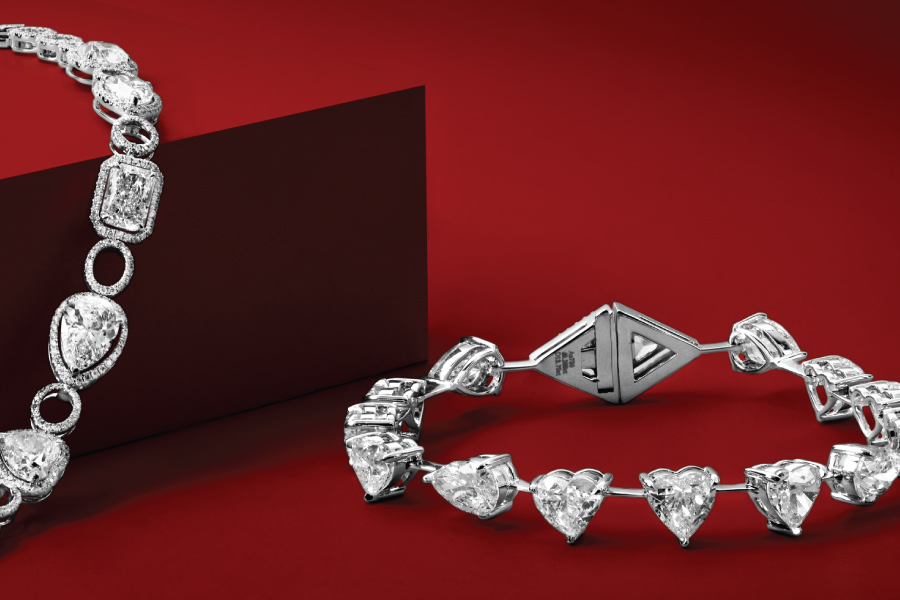 Top Tips for Choosing Diamond Wedding Jewelry for Your Big Day
The involvement of diamonds, gemstones and fine jewelry in your wedding does not end when you have chosen the perfect diamond engagement ring. Given that your wedding is not traditionally known as your 'big day' for nothing, most brides ensure they have plenty of sparkle surrounding them, and compliment that gorgeous dress and stunning engagement ring.
Choosing your wedding jewelry is an exciting part of the planning process leading up to your wedding. Bridal jewelry brings your bridal ensemble together with stunning finishing touches. However, you should select your bridal jewelry with caution. Choose jewelry that complements rather than detracts from your bridal ensemble, and, if you are going to be investing in new pieces, ensure they can be worn long after the honeymoon is over too!
To help you in finding the appropriate jewelry for your wedding style, we've compiled a list of top suggestions to help you decide what fine jewelry to wear! Read on to find out what to consider when choosing jewelry for your big day, as well as how to pick the perfect diamond necklaces, diamond earrings, colored diamond bracelets, and more.
Consider Your Wedding Dress Neckline
It's crucial to think about how your bridal jewelry will match your wedding gown while choosing it. Instead of clashing or overshadowing it , you want your jewelry to complement it.
Considering how your jewelry options will work with your dress's neckline as an easy method to ensure that it will match your outfit. Choose diamond wedding jewelry that "fills in the gaps" of skin exposed by your wedding gown, never overlapping it but providing just the right amount of stunning shine to complement it.
Check out our ideas for each dress neckline below to get an idea of the types of diamond wedding jewelry that work best with it.
Strapless Dress
Because strapless dresses expose a lot of skin around the collarbone, diamond necklaces look great with them. Instead of a medium or long necklace, we recommend a choker or a shorter length necklace. With strapless gowns, longer necklaces can look imbalanced; the key is to select a diamond or gemstone necklace that sits beautifully in the middle of all that exposed skin.
Sweetheart Neckline
Because this dress type has a delicate, romantic appeal, simple necklaces, earrings, and bracelets go best with sweetheart necklines. This dress type is also often seriously made even more stunning by the addition of romantic colored diamonds. A pink diamond bracelet or pink diamond earrings might be perfect choices. A traditionally associated with love gemstone like an emerald could be an excellent choice as well.
Halter Dress
Halter-style wedding dresses and wedding dresses with high necklines don't allow much room for a necklace, so if your dress is in one of these designs, we recommend foregoing the necklace. Instead, wear dazzling drop diamond earrings and a lovely, eye-catching colored diamond bracelet to balance off a halter or high neckline.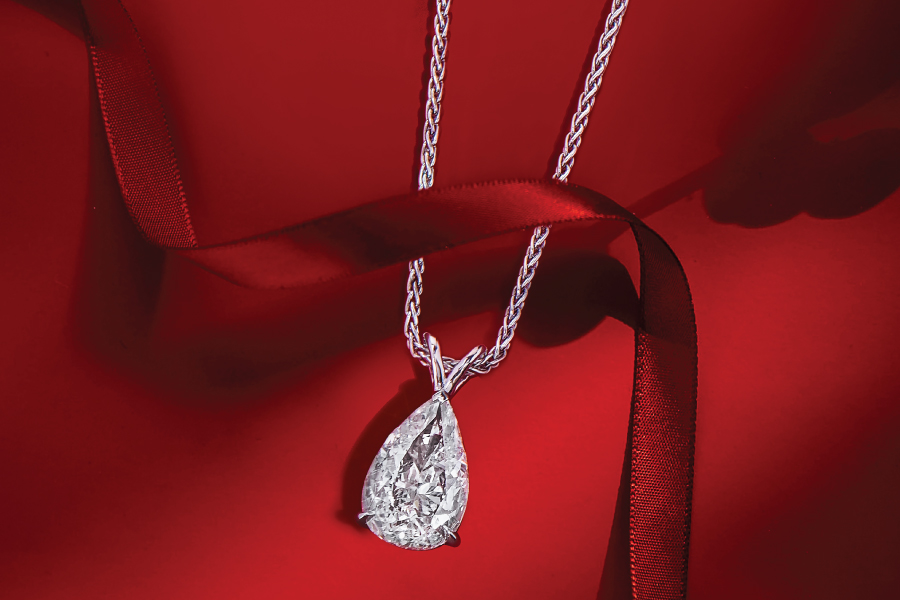 V-Necklines:
Simple diamond pendant necklaces that echo the form of the neckline add a lovely touch to a v-neck gown. If your gown has a plunging v-neck, a diamond drop necklace will complement the dramatic curve of your gown perfectly.
Remember That Less is More, Even When it Comes to Diamonds
It's tempting to go all out when it comes to your bridal jewelry. Who wouldn't want to wear it all? There's so much lovely bridal jewelry to pick from. However, we would advise you to keep in mind that, when it comes to a wedding style, less is usually more. The spotlight should be on you, not your wedding accessories, at the end of the day.
Make sure you have all of your bridal jewelry ready by the time you get your final dress fittings to prevent looking overdone. You'll be able to try everything on with your gown (and, preferably, your hairdo) to see how it all fits together. Consider omitting one or two of your embellishments or substituting them with more subtle pieces if you discover that one or two of them stick out too much.
It's also important to keep in mind that you don't have to wear all of your jewelry on your wedding day. Sometimes all you need is one or two pieces to complete your ensemble perfectly.
Your Hairstyle
The kinds of jewelry that will look best with your wedding style will be influenced by your wedding hairdo. This is particularly true in the case of your earrings.
When it comes to jewelry, up-dos provide you with a lot of options. Updos look great with both large statement diamond earrings and more delicate gemstone earrings, such as drop earrings or studs.
Hair jewelry, which may add beauty and romanticism to your wedding look, works well with up-dos. If you do decide to wear hair jewelry, think about how it will look with your earrings and necklace. If you choose a bold hairpiece, you may want to keep your earrings and necklace selections more muted to prevent appearing overdone.
A down-do is a lovely and romantic bridal hairstyle. However, it does necessitate that you select your wedding jewelry with greater care, particularly your earrings. Down-dos, which can cover larger earrings, work best with delicate diamond stud earrings.
You can, however, wear your hair down and still rock larger earrings if you want to. Simply pick your earrings with visibility in mind. Look for lengthier diamond earrings that will glitter through your hair if you want to wear bolder earrings with a down-do.
Don't Forget That Something Blue!
Even if you are far from a superstitious person, you know the way it goes for weddings. Your bridal ensemble should feature ""something old, something new, something borrowed, and something blue".
Consider incorporating blue jewelry into your wedding attire if you're still hunting for that lucky "something blue." The most popular blue jewelry for bridal ensembles is blue sapphire jewelry, which has a beautiful, traditional aesthetic. However, if you are looking for something different - but equally stunning, deep blue tanzanite is another gorgeous gemstone option.