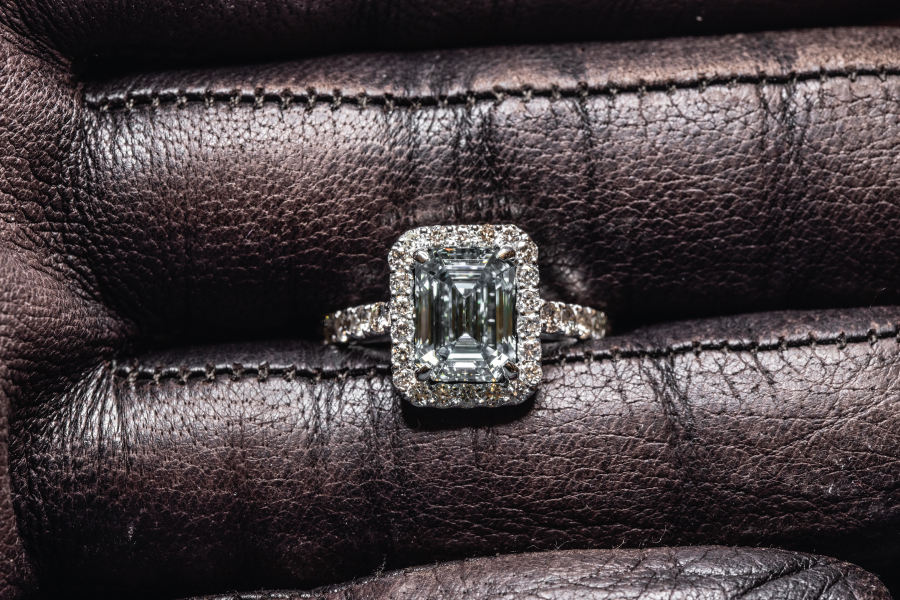 Top Tips for Buying the Perfect Emerald Cut Engagement Ring
Emerald cut engagement rings are both beautiful and elegant. They are eye-catching and stunning due to their unusual shape and dramatic facets. Many contemporary celebs, such as Beyoncé and Angelina Jolie, as well as Hollywood luminaries, like Elizabeth Taylor, who famously wore a 29.4-carat emerald cut stunner that she playfully referred to as her ice skating rink, have chosen emerald cut engagement rings.
Emerald cut engagement rings have become more popular among couples looking for a unique ring, but they are still a rare cut, with less than 5% of brides opting for it. If you're aspiring to become one of these unusual brides, there are a few things you should know before making a purchase.
You Should Know What You're Buying
When shopping for a diamond, the first step is to educate oneself about the diamond's properties when an emerald cut is utilized.
Emerald cut diamonds have clipped corners and are rectangular in shape. Step cuts are used to increase the size of the diamond's facets, giving it a lovely "flash" impression in the light. The emerald cut's 57 or 58 facets are concentrically aligned, giving it a captivating "hall of mirrors" appearance.
The emerald cut not only gives the wearer a stunning and refined image, but it also seems larger per carat than a round diamond. This is due to the diamond's table having a bigger percentage surface area than the rest of the diamond, giving the impression of a larger size. If bling is your thing, an emerald cut
Concentrate on Crucial Details: the Four Cs
The Four Cs, as with all diamonds, must be evaluated to determine the stone's quality. The clarity of an emerald cut diamond, on the other hand, is particularly essential. This is because of the stone's step cut, which displays inclusions more readily than other diamond forms' like the conventional brilliant cut. When looking for an emerald cut diamond, look for one with a better clarity grade.
You must also consider the emerald cut diamond's rectangular ratio. An emerald cut diamond's usual ratio is 1.45 to 1.55, but if you like a longer rectangle, search for a ratio of approximately 1.6. Similarly, if you like a shorter cut rectangle, a ratio of roughly 1.3 is ideal.
Combine With Your Favorite Setting
When you've found the right emerald cut diamond, it's time to pair it with a setting that brings out the diamond's best features. Simple solitaires that highlight the diamond's shape and exquisite halo settings that emphasize the cut's vintage aesthetic work nicely with emerald cut diamonds.
When it comes to metal choices, that is really a matter of taste. It's easy to see why white gold is the most favored metal for emerald diamond rings. The diamond's brilliant whiteness is boosted by its color, or lack thereof. It enhances the stone's brilliance and allows it to show off its remarkable clarity and color.
Emerald cut diamonds look stunning in yellow gold settings as well. Emeralds set in yellow gold have a vintage or regal vibe to them. Because of its whimsical and romantic appeal, rose gold is a more unusual choice for emerald cut diamonds. That isn't to say it can't be done, though. Rose gold settings, especially when combined with pave diamond stones, can soften the straight edges of emerald cut diamonds and lend a touch of romance to the ring.
What counts most, like with every diamond, is that you adore it. When shopping for an emerald-cut engagement ring, keep these three tips in mind and allow them to lead you to the perfect diamond engagement ring for you.