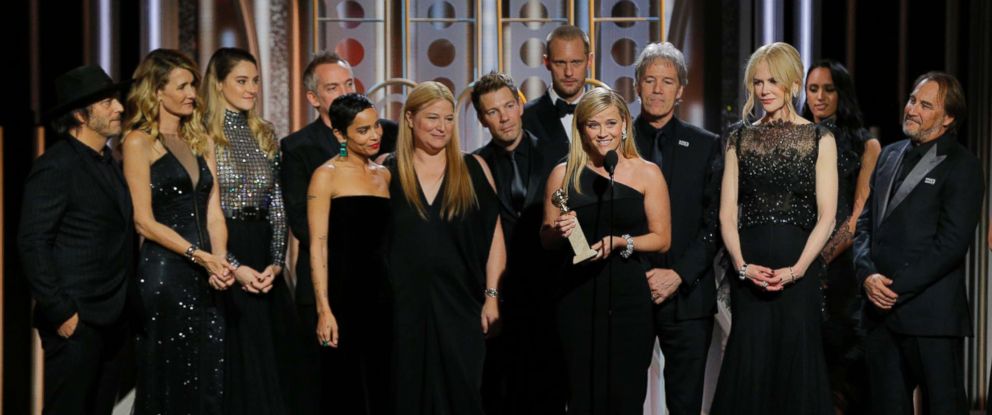 Time to Paint the Town Black
Gems with indestructible qualities and solid symbolism resonate beautifully with the undying strength of a woman.
Which is exactly what actors and actresses at the Golden Globes chose, to spread the awareness of gender disparity and sexual assault.
A night that had everyone sparkling with diamonds and luscious emeralds, in an all black color code was a moment of solidarity for the entire industry. Protesting against the epidemic of sexual assault through the Times Up initiative, 2018 should be like "a new day on the horizon" in the words of Oprah Winfrey.
Bringing women as preferred dates, strong ladies like Zoë Kravitz and Debra Messing not only gleamed with glamour but also chose Emeralds to denote both hope and renewal, making a statement with their jewels.
A highly symbolic gemstone, an emerald's verdant greens always bring about feelings of a pure, fresh, love that is elegantly stylish.
Much to the likes of this pair of earrings studded with 22.14 carats of Zambian Emeralds.
With a natural bluish green color so rich, this pair will represent everything you wish for.
Another phenomenal piece from Asteria Diamonds is this 5.81 carat Zambian Emerald ring.
Known to be the color associated to the goddess Venus, these gems represent renewal and are thought to keep evil spirits away.
With a divine color that is universal through the stone, this ring gets the right balance of sparkle from the surrounding diamonds.
The other star of the evening was Salma Hayak who came laden in Harry Winston.
Bearing glorious clusters of unsurprisingly splendid diamonds, her jewels even featured some Canary yellows that could not help but grab our attention.
Although diamonds often come with hints of yellow, a vividly colored Fancy Light Yellow can be quite rare.
Part of our collection is this 4.02 carat Natural Yellow and White diamond pair of cluster earrings that is an indulgent treat or maybe even two.
Here is a pendant inspired by geometry, featuring a stunning 29.71 carat Black Diamond.
The gems symmetrical design, paired with luminous diamonds will be a powerful voice of change.
The unified feeling to create a change in the industry will surely have a cascading effect within society.
Use gems to spread awareness and create a change that proves it's about #time inequality is stopped.