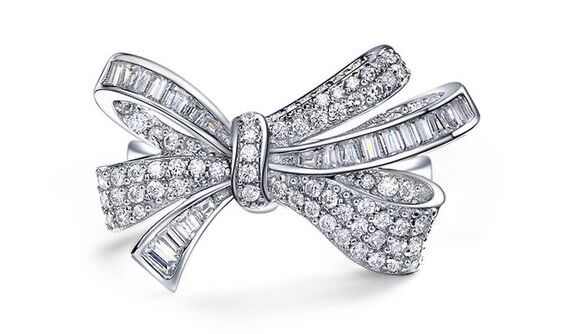 The Uniqueness of Bow Diamond Rings
Are you looking for something special to wear on special occasions? Look no further than bow diamond rings! These rings add a touch of extravagance to any outfit and are perfect for those who love to show off their beautiful diamonds. Whether you're looking for a new way to express your love for someone or add some extra bling to your wardrobe, a bow diamond ring is a perfect choice.
With their unique design and intricate cut, these rings captivate everyone's attention. Whether you're a first-time buyer or looking for something more specific, Bow Diamond Rings has you covered. There are many different things to consider when you buy them; Astteria will give you a walkthrough on how to purchase the perfect ring for you.
What is a Bow Diamond Ring?
A Bow diamond ring is a ring that features a bow-shaped diamond as the centrepiece. This ring is often considered a luxurious addition to an individual's wardrobe. The diamond is typically used as the main stone in the ring, and it can be found in many colours, including yellow, green, blue, purple, pink, and red. The bow is often used to add extra sparkle to the ring, and it can come in different shapes and sizes. The ring is often created as a gift for someone special, and it is typically made from fine diamonds.
Characteristics
Bow Diamond Rings are a style usually seen in the 1920s and 1930s. The design features a single diamond with the diamond set in a bow shape. The single diamond is set in the centre of the ring, surrounded by a bow-shaped metal band. This band can be made of platinum, gold or silver, and it wraps around to form a complete circle.
Characteristics of a bow diamond ring are enumerated in the following:
The diamonds used in a bow diamond ring must be of good quality and have at least .25 carats;
It is usually coated with a thin layer of carbon outside. The carbon helps to stabilise the diamonds in the ring and makes them more durable. Additionally, the carbon also provides a natural beauty to the diamonds.
The design must be symmetrical around the ring (i.e. the diamond on one side should be on top of the diamond on the other side).
The type of diamonds used in diamond ring can be either cabochon or cut. It should be made from two or more diamonds in different colours.
The size of the ring can be determined by the size of the stones used in it.
The shape of the ring can be described as corundum or sapphire.
Things to Consider When Looking for Bow Diamond Rings
1) Quality Assurance of a Bow Diamond Ring
Quality assurance of a diamond ring is one of the most important steps in its production. This involves ensuring that the diamonds used in the ring are of high quality and that any potential problems that may arise are overcome. To ensure accurate readings on diamond size, angles, and light transmission, various tests are conducted to ensure that the ring is correctly designed and manufactured.
2) Metals
Many metals can be used to create rings. Some of the most popular metals include gold, silver, and platinum. The metals are often used together to create unique rings that are both beautiful and functional.
3) Certifications
Certifications of the jewellery industry's best-quality diamond rings come in many shapes and sizes. Still, the traditional bow diamond ring is one of the most popular and popular types. There are several reasons why this type of ring is so popular, including its look, feel, and cost. The process by which a diamond is cut into a ring is also very important in quality, and a good bow diamond ring has undergone rigorous testing to ensure that it meets all of the requirements.
4) Carat
The best carat of a bow diamond ring is the one with the largest possible size. It's important to remember that larger size means a more sparkly diamond and can make for more beautiful rings. For example, a 1.14-carat diamond will be larger than a 0.87-carat diamond. So if you're shopping for a new ring, it's important to choose the right type of diamond for your own needs and preferences.
5) Colour
The best colour is the one that fits you. There are many different colours available for diamond rings, such as white gold, yellow gold, rose gold, and white diamond, but the ones that fit your personality and fashion style the best will be the most popular. If you're looking for a ring that will make you stand out from the crowd, then colour like black or light blue would be a good choice.
6) Cut
There are many factors to consider when purchasing a diamond ring, but the cut of the diamond is often one of the most important. The best cut of bow diamond ring is one that results in the most sparkles and clarity for the wearer.
7) Clarity
When it comes to finding a ring that is both clear and sparkly, the best option may be a diamond ring with clarity. Clarity can be determined by measuring the diamond's colour using a Spectroradiometer—the more colours present in the diamond, the greater its clarity. There are multiple factors to consider when looking for a clarity level in a diamond, including weight, type of stone (including tourmaline, cabochon or satin), cut, and height of the diamond.
Tips for Buying Bow Diamond Ring
When it comes to finding the perfect diamond ring, there are a few things you should keep in mind. Here are some tips on how to buy the right one:
1) Look for quality diamonds: quality diamonds play an important role when it comes to choosing a ring. Be sure that the diamond you choose is high-quality and has been authenticated by a jeweller or other authority.
2) Get a variety of sizes: not all people have the same size fingers, so it's important to get different sizes when purchasing a diamond ring. Not only will this help you find rings that fit perfectly, but it will also make finding your wedding band easier.
3) Choose wisely: another important thing to remember when buying a diamond ring is what type of diamond it is.
Conclusion:
The bow diamond ring is a unique and beautiful way to show your loved ones support. It is easy to put on and provides a stylish and unique look. Bow diamond rings are a great way to show your loved ones that you care about them and appreciate their interests. Book an appointment now with Astteria to make your loved one feel special.
FAQs
How do you clean a diamond bow ring?
A diamond bow ring is one of the most popular diamond jewellery pieces. It is a ring with a band with a row of small diamonds, usually with one large diamond in the centre.
The first thing to do before cleaning a diamond bow ring is to remove any stones that may be loose. Once you have done this, take the ring to your local jeweller or professional, who will clean it for you. If you are not sure how to do this yourself, there are many tutorials online that will show you how.
It is important always to store your diamond bow rings in an airtight container and avoid exposing them to chemicals such as perfume or lotion, as these can cause damage over time.
How do you wear a bow ring made of diamond?
A bow ring made of diamond is a special type of ring. It is worn on the middle finger and has a diamond-shaped bow on the top. The bow ring made of diamond is worn the same way as any other ring. The only difference is that it should be worn on the middle finger and not on the index or pinky fingers.
What does the gift of a bow diamond ring symbolise?
A bow diamond ring symbolises a sense of commitment and love. It signifies the promise of marriage and eternal love that the couple has for each other. The bow shape makes it look like the two people are holding hands, which is an indication of their mutual support for each other. The diamonds represent the couple's future together and how they are determined to grow with each other through life's challenges.