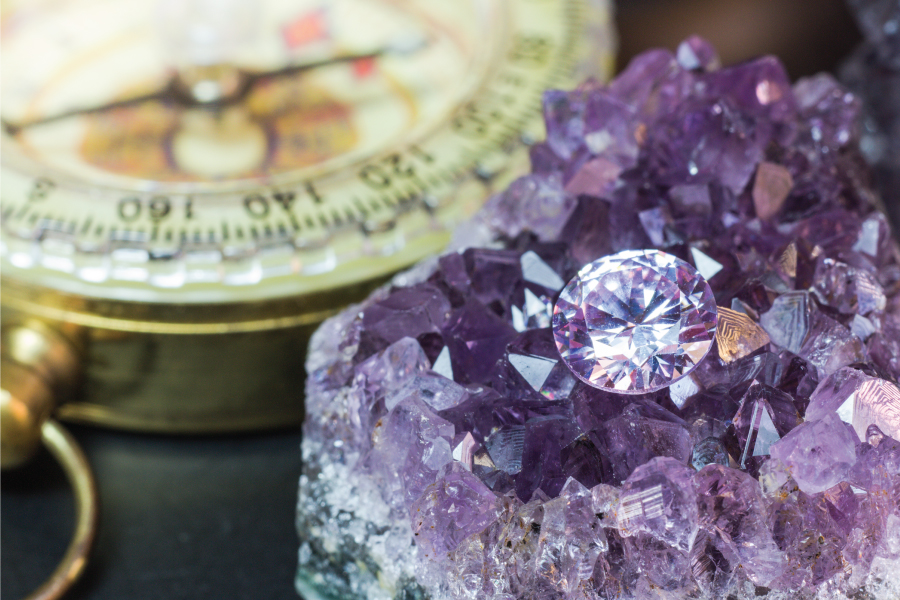 The Purple Diamond Engagement Ring Explained
More often than ever these days modern brides are choosing to search for an engagement ring that offers something different. Something that moves away from the traditional white diamond sparkler and better reflects their unique taste, aesthetic and personality. A purple diamond engagement ring is often such a ring.
Are Purple Diamonds Real?
When they hear about - and even see - fancy colored diamonds some not familiar with them wonder if such things are even real, or if they are some lab created version of the 'real thing'.
While there are many lab created colored gems out there, real fancy colored diamonds exist, and that includes real purple diamonds, although they are, as you might imagine, very rare.
What makes a diamond purple? Similarly to other Fancy Color Diamonds, according to scientists an impurity undoubtedly occurs in the composition of purple diamonds.
While there's not a consensus on the 'true' cause of the purple gem's color, significant quantities of hydrogen and boron are present inside the stone. Possibly, the specific way these elements interact within the crystal plays a role in defining its distinct purple hue. Many gemologists also claim that pressure encountered during the purple diamond's journey to the Earth's mantle has colored the stone's hue.
Whatever it is that changes these diamonds as they form, they are as real as any clear diamond, and in many cases far more valuable (simply because they are found far less often.)
There is no such thing as a standard hue for a purple diamond, and therefore purple diamond engagement ring, though. As is the case for other Fancy Colored Diamonds, purple diamonds are found in varying hues, varying intensities, and even enhanced occasionally with similar shades such as pink, yellow or green. The fact that all these stunning gems form naturally is yet another example of what an amazing artist Mother Nature is.

Is a Purple Diamond Engagement Ring Out of My Budget?
You may have heard that purple diamonds are very expensive, and really belong in the realm of diamond collection as an investment rather than to be worn.
That is only partially true. Yes, purple diamonds have been sold for astronomical sums. And the more intense the purple, the higher the price. However, you can find stunning purple hued diamond rings - rings that would serve wonderfully as a purple diamond engagement ring - at a price that might surprise, and delight you.
A pink purple diamond engagement ring like this stunning example would fit many engagement ring shopper's budgets. It also offers a truly unique coloring that any bride could be almost certain she'll never see on anyone else.
Pink purple is far from the only option though. A gray purple like this ring exudes style and sophistication in buckets and might be the perfect choice for the bride looking for a subtle sparkle with a calm, quiet air. And for those who really want their purple diamond engagement ring to stand out in any crowd, a ring like this one, featuring a purple diamond surrounded by clear stones, might be the 'one'.
The bottom line? If your heart is set on a purple diamond engagement ring it's out there, you just have to know where to shop!