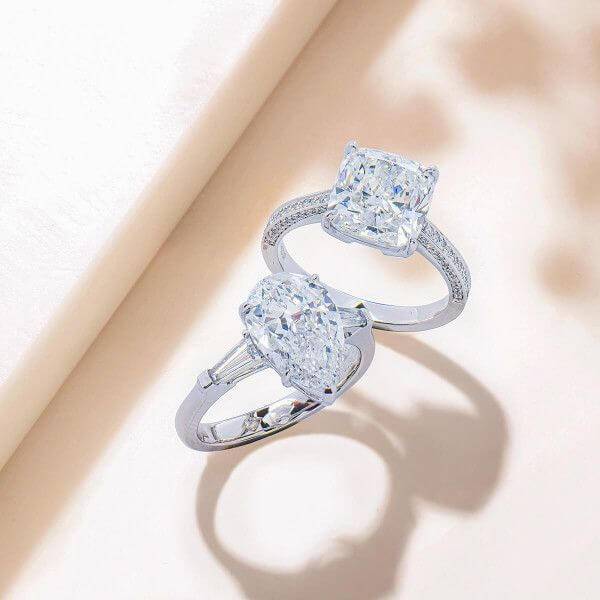 The Pros and Cons of Couples Diamond Engagement Ring Shopping
An engagement ring is one of the most significant purchases you or your partner will ever make. As a result, it's only natural that you want to make sure everything is in order.
While it is customary for the engagement ring to be a complete surprise, an increasing number of couples are opting to shop together. So, how should you go about buying an engagement ring? In the end, you and your partner should do what you believe is best for you.
If you make all of your major decisions together, then shop together! Trust your partner to make the decision if you prefer a little mystery and would rather be swept off your feet with the proposal—and the ring. This process and purchase will feel extremely special in either case.
If you're thinking about going diamond engagement ring shopping with your partner, here are some pros and cons to think about first.
Couples Ring Shopping Pro: More Options
We're about to let you in on a little secret: just because you shop for your engagement ring together doesn't mean you'll know exactly what the bauble will look like when the purchaser proposes. In fact, shopping with a partner can take many different forms. You can go as far as picking out the exact stone and setting, but you can also try on a few different looks and tell your partner which ones you prefer and then leave the final decision to them.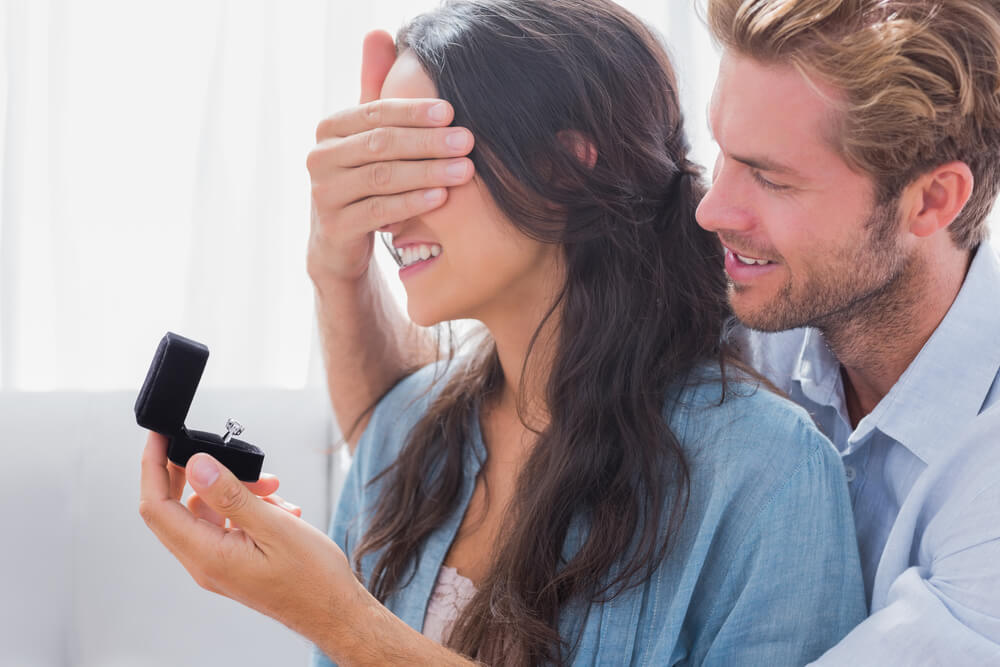 Couples Ring Shopping Cons: It Might 'Spoil' the Surprise
You won't know when or where it will happen, but you will know that a proposal is on the way. If being completely surprised by the proposal is important to you, shopping for the ring together might not be the best option—the experience can be wonderful, but it removes the element of surprise.
Couples Ring Shopping Pros: Less Stress
Buying an engagement ring is a big decision and a big investment, so shopping with your partner can help relieve some of the pressure. Having a second set of eyes can be beneficial when making a large purchase, just like getting a second opinion when going to the doctor. Furthermore, having you by their side assures them that they will have someone to turn to if they need to make a major decision in the future. Is that a symbolic metaphor or what?
Couples Ring Shopping Cons: They Won't Be Able to Show Off How Well They Know You
Your partner may want to express his or her love for you through the design of the ring, and if you're not picky about the look of your bridal bauble, wearing something that your partner chose specifically for you can feel more meaningful. And just because you're not going to assist him or her in selecting the ring doesn't mean he or she can't consult your loved ones—knowing that your loved ones put their heart and soul into this special piece too can be extremely touching.
Couples Ring Shopping Pros: It Won't Ruin the Moment
So many people are afraid that going ring shopping together will ruin the proposal. However, going to a jeweler together and trying on rings can be just as romantic and special as seeing it for the first time when the proposer is down on one knee.
Consider this: While many couples have a 'first look' on their wedding day, you'll almost always see both halves of a couple get misty eyed as the other walks down the aisle. The fact that you've seen the ring before doesn't make it any less special when the big day arrives.