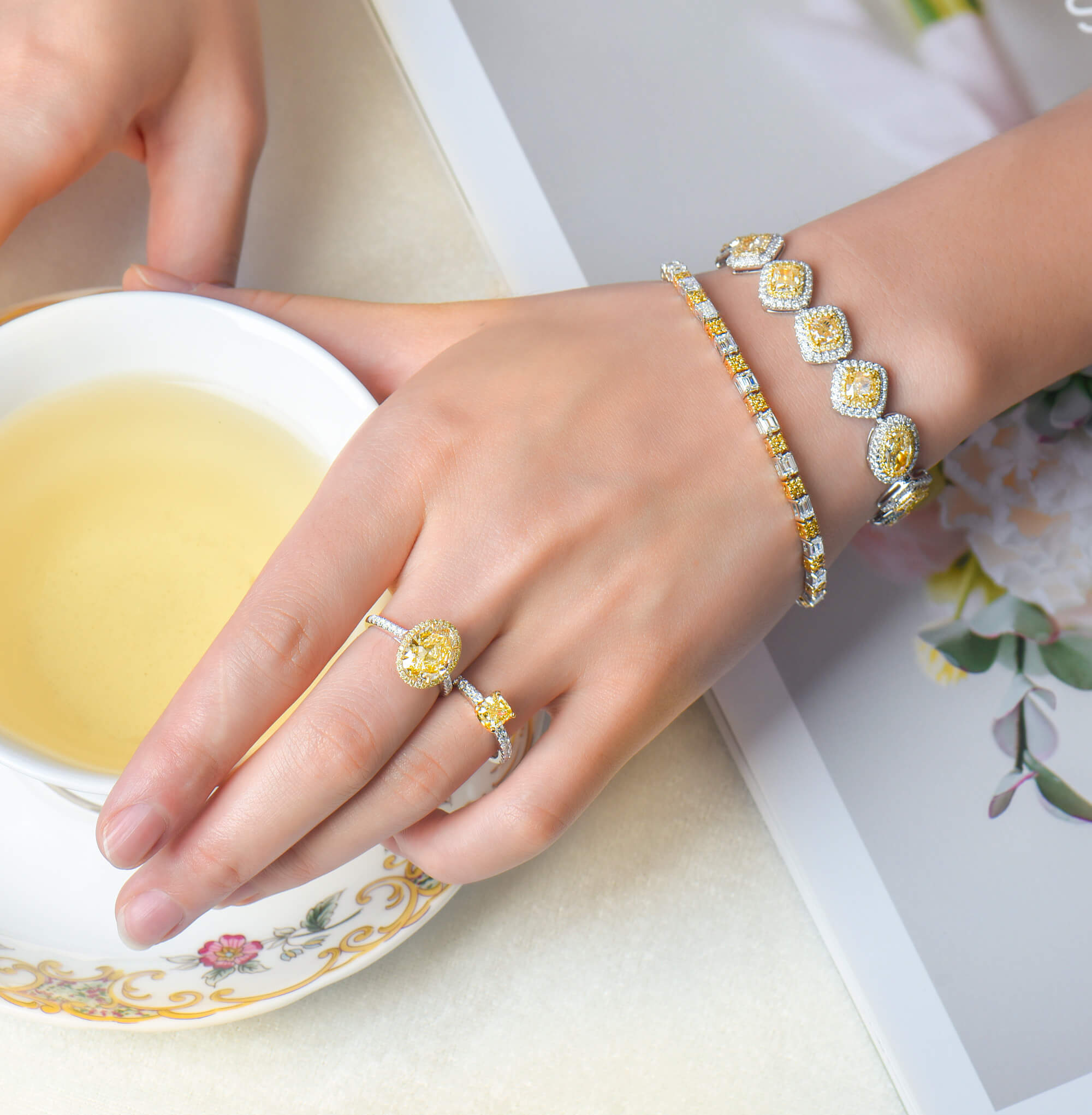 Tennis Bracelets: The Perfect Summer Jewelry Look?
When it comes to summer jewelry, you probably want to keep things light and bright. That's why the tennis bracelet is so popular when the heat is on, and the hot, hot sun, is out, as it fits the bill as perfect summer jewelry to a tee.
What is a Tennis Bracelet?
A classic tennis bracelet is made up of a line of diamonds of the same size, cut, color, and clarity set side by side to form a complete, flexible circle.
If you want something a little different, there are variations of the classic tennis bracelet style that include design flourishes like diamonds of various sizes, shapes, and cuts, as well as fancy colored diamonds in place of clear and innovative settings.
How Did the Tennis Bracelet Get Its Name?
The tennis bracelet was first popularized in the 1920s and was initially known only as a "diamond line" bracelet. The term "tennis" was coined 50 years later, and is widely credited to US tennis legend Chris Evert, who was known for wearing a diamond line bracelet during tournaments.
The exact date when the name tennis bracelet was first coined, however, is a point of contention. It is commonly assumed that it occurred when Evert's diamond bracelet broke during the 1987 U.S. Open. The game was halted while Evert searched for the missing bracelet, which she referred to as her "tennis bracelet" in a subsequent interview.
In reality, some say, the bracelet got its name much earlier, in the 1970s, when Evert, the world's number one tennis player, became known for her stylish tennis court attire. She tapped into the disco-era vogue by pairing diamonds with chic sporting gear, creating a sportsluxe look, and her diamond tennis bracelets were a big part of that.
Tennis Bracelets: The Perfect Summer Jewelry Look?
You don't have to be a tennis pro to wear a tennis bracelet; you can wear your diamond tennis bracelet at any time of day or night, dressed up or down. The tennis bracelet has become a classic piece of diamond jewelry thanks to its versatility, and it's especially appropriate for summer.
Whether it's simply worn on its own or with other diamond jewelry to make a statement, with its versatility the diamond tennis bracelet is the perfect accessory. Lightweight and simple it is as suitable for the office as it is a night out, and its stunning good looks will certainly make a splash (pardon the pun) at summer pool parties.
Choosing Your Bracelet
Because a diamond tennis bracelet is such a versatile item that will be worn frequently, its links must be both flexible and durable. The diamonds are held in place by good links, which prevent the bracelet from breaking.
Move your hands and arms around while choosing your bracelet to see how it moves on your wrist. Make sure there are no sticking points between the links and that it moves smoothly.
When it comes to safety, look for a bracelet with a secure clasp as well as a safety latch. Opt for a diamond tennis bracelet that sits lightly and loosely at the point where your wrist meets your hand for the most comfortable fit. The fit is perfect if you can easily slip a finger between your wrist and the bracelet.