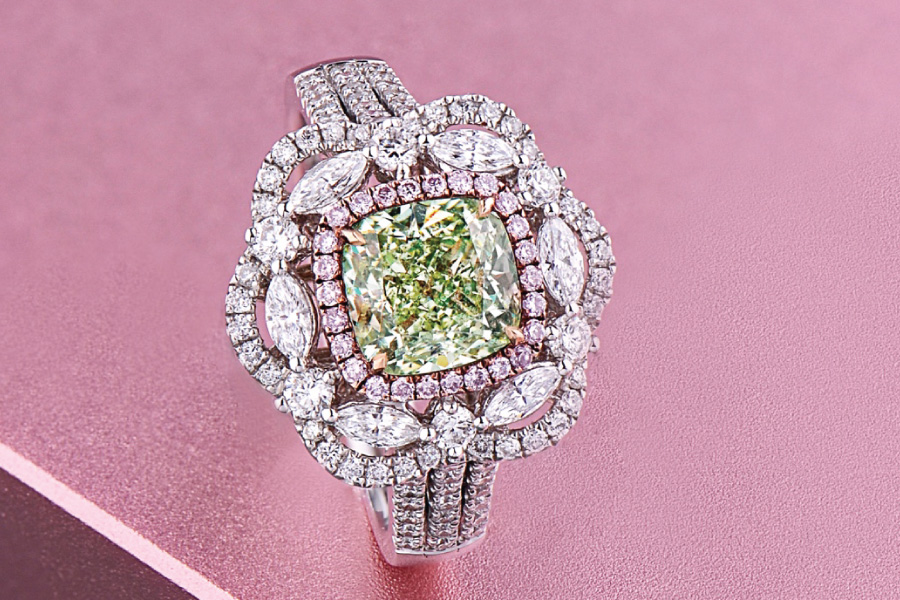 Show off your commitment with a ring that's as bespoke as you are
"The left finger is where the wedding ring goes. This is because it's the finger with a vein that connects to the heart." Unknown
It's official. You're ready to take the next (and biggest) step in solidifying your relationship with that Special Someone. The timeless tradition of ring-hunting is first on the agenda - and it's no small task! After all, you're investing a considerable amount of money in choosing an object that represents the sum of your feelings. It's hard enough to do this with words, let alone a piece of jewelry you haven't crafted by yourself!
The conventional white diamond may beckon with its enticing sparkle. You could succumb to its classic wiles - but perhaps you aren't that generic. If you're looking for a ring that stands out from a sea of pale sparklers, then colored diamonds are the choice for you!
What are Colored Diamonds?
White diamonds are made from a process involving super-heated, highly pressurized carbon molecules near Earth's core. Naturally-colored diamonds are formed via the same process, the difference being that foreign particles get caught up in the crystallization process. This alters the process and results in a stunning and unique diamond with its own special shade of color!
If you are looking for a unique wedding ring but don't want to settle for anything less than the best, colored diamonds are a fantastic option! Not only are they just as valuable as clear diamonds, but they bring a vibrant wash of hues guaranteed to make your wedding ring stand out and attract admirers!
Read on to view our top picks from Astteria's exclusive collection.

Six Amazing Color Diamond Wedding and Engagement Rings
Very Light Pink Diamond Ring
This first pick is not only dazzling - it's also a bargain! Set on an eternal circle of 18K Gold, this stunning piece is composed of sixteen individually-cut natural pink diamonds, plus sixteen Marquise and Pear-shaped diamonds. Surprise your significant other with this blossoming beauty and watch their eyes glisten to match their brand new ring!
Fancy Yellow Diamond Ring
If you're looking to go all-out and lay on the glitz, this ring is definitely the one for you.
This sparkler boasts not one but THREE gorgeous colorful gems! The teardrop fancy yellow diamond alone punches in at a whopping 2.51ct - and is flanked on either side by 0.16ct and 0.19ct light pink diamonds to frame its magnificence. Slide this 18K white gold ring on your loved one's finger today!
Fancy Light Brown Pink Diamond Ring
This eye catcher is unconventional - but perhaps you are as well? If you're looking for a ring that captures the more quirky aspects of your other half - while keeping it classy - this is the ring for you!
Like all the rings featured, this one struts its stuff on an 18k gold base. A combination of Fancy diamonds cut in a variety of shapes and shades, this ring is a worthy contender in your search for uncompromising style!
Fancy Light Yellowish Green Diamond Ring
Turn your acquaintances green with envy and gift your sweetheart this impressive hunk of rock! Another heavyweight when it comes to winning hearts, its Light Yellow Green centre boasts a rank of 1.02cts. It's then encircled by 22 Brilliant Fancy Pink diamonds and another 46 clear natural gems totaling 0.38cts. Also, did we mention that it's very, very glam?

Fancy Intense Yellow Diamond Ring
We've looked at some whoppers in this selection of top colored diamond wedding ring options. Sometimes, however, less is more. If your partner is more low-key, consider this dainty offering.
Though smaller than its competitors, size isn't everything. In fact, this Fancy Intense Yellow piece clocks in at 1.07ct, including its additional 18 surrounding natural diamonds.
Big things can truly come in small packages!
Fancy Intense Blue Diamond Ring
It's safe to say that this ring speaks for itself in terms of conveying just how special your other half is to you. Blue diamonds are among the rarest gems on the planet - and this one is centre stage. This 0.39ct Fancy Intense Blue diamond ring is encircled by a halo of 4 marquise-shaped E-F VVS diamonds which are 1.43ct in total - plus an additional 4 pear-shaped diamonds that are a further 0.11cts!
Rounded off on an 18k white gold base, this elegant ring is truly the embodiment of rare beauty - just like your future fiance!
Still not sure?
If you're wondering how to choose from such a high-quality range of choices, it's time to call in the experts! Our Astteria team will be able to work with your budget and requirements to help select the perfect colored diamond wedding ring for you. Not only that, but we offer lifetime warranties and 30-day returns in case you change your mind!
For more information, contact us today!