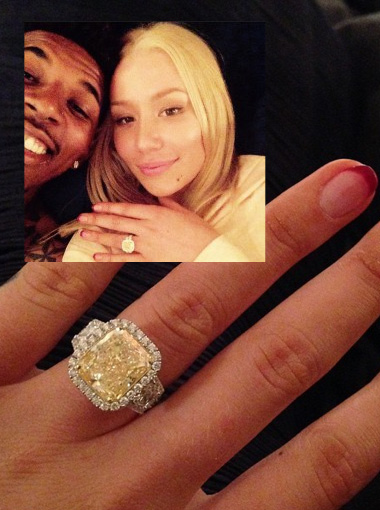 Iggy Azalea is engaged... Check out her ring!
Iggy Azalea got engaged yesterday to basketball player Nick Swaggy P Young and made the excellent choice of a HUGE fancy yellow diamond for her center stone. Accompanied by side stones, a diamond halo and a diamond band, this ring has it all. It's a classy choice that definitely stands out! Congrats Iggy!
Photos from Iggy's facebook announcement:
The choice of a yellow diamond for a center stone in an engagement ring is becoming more popular choice. A yellow diamond gives a ring that extra special touch, making it different than all the others with plain old white diamonds.
Iggy's setting for her stone is very common for yellow diamonds. The "cup" underneath enhances the color of the center stone and the smaller white diamonds surrounding it make the diamond's color pop. You can learn more about how colored diamond settings differ from white diamond rings here.
Ready to shop for your own? Take a look at our selection of yellow diamond jewelry to find something you'll love.