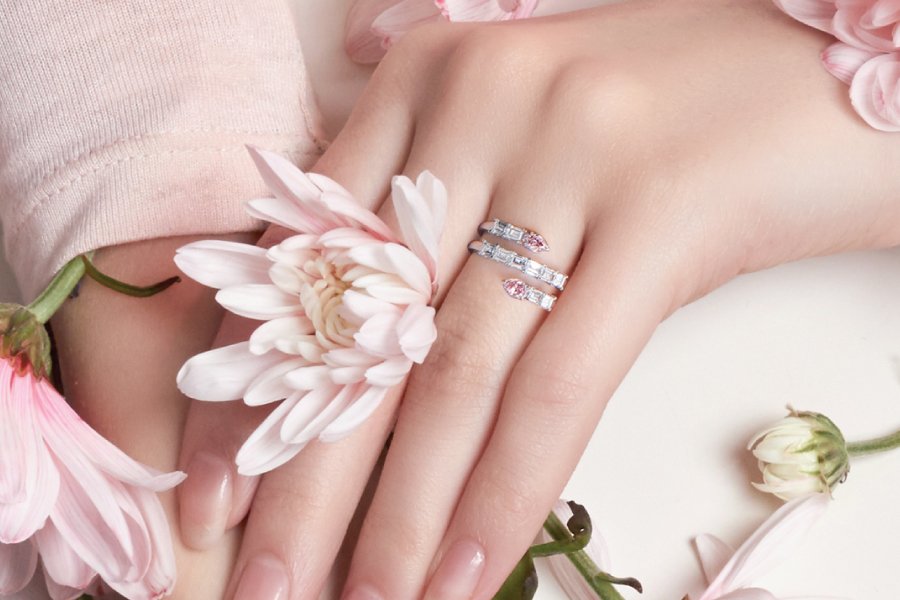 How to Upgrade Your Diamond Engagement Ring: A Simple Guide
Later in life, it's not uncommon to want to upgrade your engagement ring. Tastes and finances change over time, making an upgraded ring appear more appealing. Maybe you would now prefer something more unusual - such as a fancy colored yellow diamond engagement ring instead of the more usual white diamond. Or perhaps a pink diamond engagement ring has been on your mind.
Even while it's natural and commonplace to want to upgrade your diamond engagement ring, the prospect can be intimidating.
Some people may be unsure how to approach their spouse about the notion. Others may not want to lose their original ring's sentimental value, or they may be unsure how to upgrade a ring in the first place. These and other issues surrounding upgrading an engagement ring are what we are going to take a closer look at here.
Discussing an Engagement Ring Upgrade With Your Partner
If you're thinking of upgrading your engagement ring the first step is to talking to your partner. While some spouses will be thrilled with the prospect of a ring upgrade, others may be hesitant for a variety of reasons.
Perhaps they have a big sentimental attachment to the original ring because they spent so much time choosing it for you. Regardless of whether you believe your partner will be sensitive to the concept of an upgrade, you should talk to them about it. Engagement rings are symbols of your love and commitment as a couple. So, before moving further, make sure your other half is completely on board with the update process.
When discussing this with your partner, we recommend assuring them that you still love their original ring, but that you're simply ready for a change. It's also a good idea to be certain about why you want to do this right now, so you can explain that to your spouse successfully. If any aspect of the improvement plan upsets your partner, make sure you listen to their concerns and are willing to make compromises as required.
Consider the Whys and Hows of Upgrading Your Diamond Engagement Ring
You don't need to do much planning if you like the style of your engagement ring but want to upgrade to a higher quality or larger carat weight center stone. You can simply purchase the diamond you really want and have it placed in your original ring setting by a jeweler. If you want to replace your ring setting, though, you'll need to think about what you want from your new ring in terms of style.
Focusing on what you don't like about your present engagement ring is a fantastic way to start thinking about what you want in a new ring. Do you wish you had a yellow or rose gold ring instead of a white gold one? Is your solitaire ring lacking in sparkle and elegance, or is your halo ring no longer minimalistic enough for you? Do you wish your round cut diamond was a different shape, or would you like to replace the center white diamond with a fancy colored diamond? Is it your main stone or your setting that is lacking? Or both You can start looking for new stones and/or new ring settings that offer the attributes your old ring lacked once you determine what's lacking in its design.
A Word About Sentimental Value
The preservation of sentimental value is a major issue for many couples during the upgrade process. Whether it's yours, your partner's, or a shared worry, there are a variety of methods to incorporate the sentimental value of your original ring into your new update.
The goal is to discover what is at the heart of your ring's sentimental value, and then figure out how to express that in your new ring. You can, for example, have the center diamond or side stones in your diamond engagement ring set in a different style if they are family heirlooms. Alternatively, if there is a design feature in your setting that holds sentimental value for you, you can ensure that it is preserved in your new design.
While you may need to be resourceful in order to preserve the sentimental significance of your ring, everything is possible with a little creativity and care.
If you work with Asteria Diamonds if you're unclear how to incorporate a sentimental part of your ring into your upgrade, you can always get advice from one of our skilled jewelry advisers. We can supply a wide selection of engagement ring upgrade choices because we offer expert custom ring design services and can collaborate with in creating the upgraded diamond engagement ring you've been dreaming of.