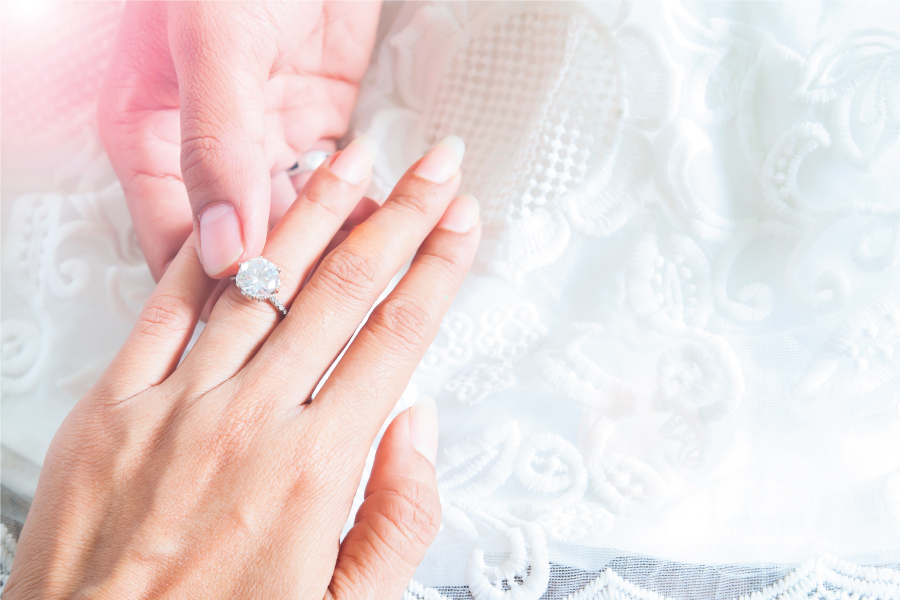 How Much Do You Spend On An Engagement Ring?
When preparing a proposal, you want your ring to be beautiful to capture all the excitement. You'll never regret buying a special gift like an engagement ring. As a symbol of your love and commitment, it represents the start of a new chapter in your life.
This article has plenty of helpful insight for those wondering, "How much should I spend on an engagement ring?".
How Much Should You Spend on an Engagement Ring?
An engagement ring costs an average of $1,900, according to a survey conducted by Morning Consult, which has been quoted in the NY Times.
However, people spend differently on rings based on their generation. Millennials spend about $3,000 on engagement rings rather than the average amount of $5,000. High-class individual spends $20,000 or more on their engagement ring, and this often drives the average engagement ring cost upward.
Even though these figures can provide a ballpark range, we don't recommend setting a budget based on what others spend on engagement rings.
Instead of looking at the style of ring, you think she will like most, consider your financial situation and your fiancé-to-be's expectations.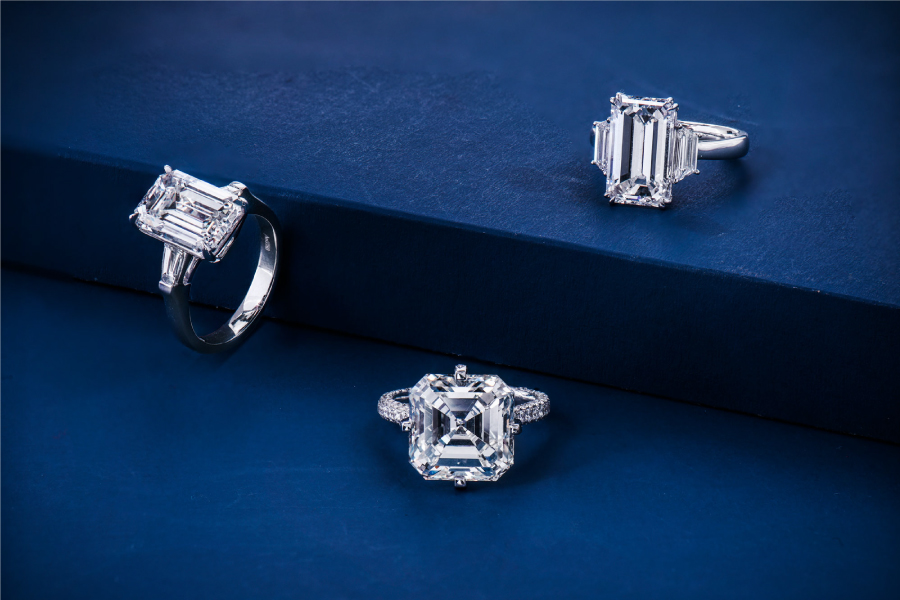 Aiming For The Right Figure When Buying An Engagement Ring
The magic number for every couple is different, but there are several suggestions for approaching the engagement ring, such as pricing confidently and avoiding headaches and frustration.
Here are some options you could consider when choosing a figure to aim for, from the real deal behind the 'three months' salary' philosophy to insights and averages from the experts.
Traditional Amount: Option 1
A three-month salary is a good guideline for how much to spend on an engagement ring. It is, however, essential to know that this 'rule' was created because of an advertisement campaign by luxury diamond retailer De Beers, which had a vested interest in parting consumers from their cash.
In the 1930s, they instituted a campaign encouraging people to spend the equivalent of one month's salary, and by the 1980s, it had increased to two months. Advertisements followed, eventually leading to the three-month figure we have today. The mantra has become ingrained in many minds, but it's not mandatory.
A typical engagement ring budget in the UK would be around £7,605 since the average weekly salary is around £585 (or about £2,535 per month). The price here is far too high, but there are thousands of gorgeous designs available for much less.
National Average: Option 2
It's fascinating to see how other people spend their money, and it can also be useful as a general guide. Research has shown that even the 'average' varies from person to person. It's easy to understand how drastically different these numbers can be when you consider that the average engagement ring costs £1,483, according to some recent surveys.
Pound Stretcher: Option 3
Depending on what you're looking for and how you shop, you may get more bang for your buck if you shop smart.
People explain that the price depends on the weight of the metal and the size and quality of the diamond. The colour or clarity of the diamond can be lowered by a single increment, especially if it goes from a colourless F to a nearly colourless G. Adding a single step to the colour or clarity of the diamond will not affect how the ring looks, and you will save money.
A Low-Risk Option: Option 4
Do you know what a proposal ring is? This is something you might consider - a temporary placeholder engagement ring that you use when you ask your other half to marry you, then replace it with a permanent one that you select together.
If you don't know what kind of ring your partner will like, proposal rings can be an excellent low-outlay option. Rather than asking them and spoiling the surprise, you can do this without asking them. The temporary band may even be redeemed against the engagement ring if you purchase it with the jeweller, allowing you to keep the original as a souvenir.
Nothing At All: Option 5
You're allowed to propose without a ring, so don't let this divide your opinion. You and your partner decide to spend the money on something else or invest in one later. You should have an open discussion with your partner if you are concerned they may feel uncomfortable or guilty about spending so much on something for them.
Although you've been together for years, their reaction might not play out exactly how you expected, so be open to any surprises.
Cost-Cutting Tips For Engagement Rings
Here are engagement ring shopping hacks that will help you treat your partner with the ring of their dreams on a budget.
Get Rid Of The Diamond
Using a diamond alternative as the centre stone of your engagement ring can save you a lot of money. If you need something complex and similar in colour, white sapphire would be a good option. There are also blue sapphires, rubies, and emeralds that have traditionally been popular gemstones. They are sometimes high-quality and scarce stones that can cost more than diamonds, depending on their quality.
Is there another non-traditional stone that is gaining popularity every day? The stone is a yellow tourmaline, morganite is a peachy-pink colour, and aquamarine is a cool blue colour. These options are excellent alternatives to a diamond ring that is less expensive but still shines brightly.
Be Aware Of Your Settings
There can be a cost associated with specific settings. The setting of Meghan Markle's three-stone engagement ring may understandably captivate your future spouse, but it can cost you more and affect the size of the centre stone. A classic solitaire setting will make the stone appear more prominent if you prefer to focus most of your budget on the diamond ring.
Utilise The "Four Cs" To Your Advantage
Engagement rings can be considerably less expensive using diamonds of lower colour and clarity, especially for brilliant-cut diamond engagement rings, without sacrificing quality. According to experts, as long as no inclusions can be seen with the naked eye, you are in good health. A diamond's clarity is independent of its colour and does not affect its brilliance. People also note that size matters more than colour, so consider working lower on your budget if you want a larger diamond.
Budgeting for Engagement Rings
Is it reasonable to spend a month's salary on an engagement ring? It's up to you. Your fiancé-to-be. Nevertheless, there are a few factors to consider before shopping for an engagement ring. We've listed these factors and explained how each could affect your wedding ring budget.
Center Stone Cost vs Ring Cost
You usually spend 75% of your budget on the centre stone and the remainder on the ring. Between $300 and $1,500 is the average price of the most popular setting styles. The majority of your budget should be dedicated to the centre stone if you are spending less than $3,000 on your engagement ring. Changing the settings later is always an option.
Be Aware Of What They Expect
The dream of being proposed to and having a ring is something that most women have dreamed of since they were children. Your special moment will be spectacular if you choose a ring that matches their expectations. Talk openly and honestly about personal finance and expectation for the ring with your fiancée if you feel comfortable doing so. Being on the same page and understanding your feelings about jewellery spending is usually helpful.
Consider Your Financial Situation
Don't forget that you plan a beautiful engagement, a vow renewal, and a future together. Consider what you can reasonably afford to set yourself up for the best financial position for you and your spouse.
Think 'Thoughtful,' Not 'Expensive'
You can't measure your love by the size of the ring you buy. You don't have to be thoughtful to buy an expensive ring.
If you put your heart and soul into designing a ring for someone you love, they will notice-no matter how much you spend or how big your budget is. Investing time and effort into choosing the most beautiful, customised ring will pay off in spades.
Conclusion
Your engagement ring should not be determined by anyone else. You and your partner should decide that together. There is a difference between the average ring cost and the median ring cost, which is closer to $5,000. It is possible to buy a gorgeous ring for $5,000 and a stunning ring for $100,000.
Takeaways!
Besides expressing your love and commitment, engagement rings represent the investment you are making in your future together. It is essential to choose the right ring for your soon-to-be fiancé.
It is typical to budget £7,605 for an engagement ring.
You can wear ice-blue aquamarine, pink morganite, or green tourmaline
Since society teaches us all to expect rings as part of every proposal, they might have spent most of their life expecting a ring. So take your time and choose the right one for her.
You can check out our different high jewellery and jewellery collections!
FAQs
How can engagement rings be so expensive?
The more intricate the design, the more expensive the engagement ring. Engagement rings are not like traditional wedding bands. They usually feature a cathedral mount or pave accents, which make them stand out from the rest.
Are engagement rings essential?
There are no rules that say couples must have a perfect engagement ring, even if it's nice to have one. Preference is all that matters. Sometimes, people choose not to wear rings when proposing, and that's perfectly fine too. It has become a tradition in many cultures to propose marriage with a ring.
A diamond engagement ring serves what purpose?
It is commonly used in Western cultures as a symbol of engagement in marriage. A perfect engagement ring shows that the person wearing them is engaged. The partner of the prospective spouse presents a ring as an engagement gift when the proposal is accepted or when the proposal is proposed.