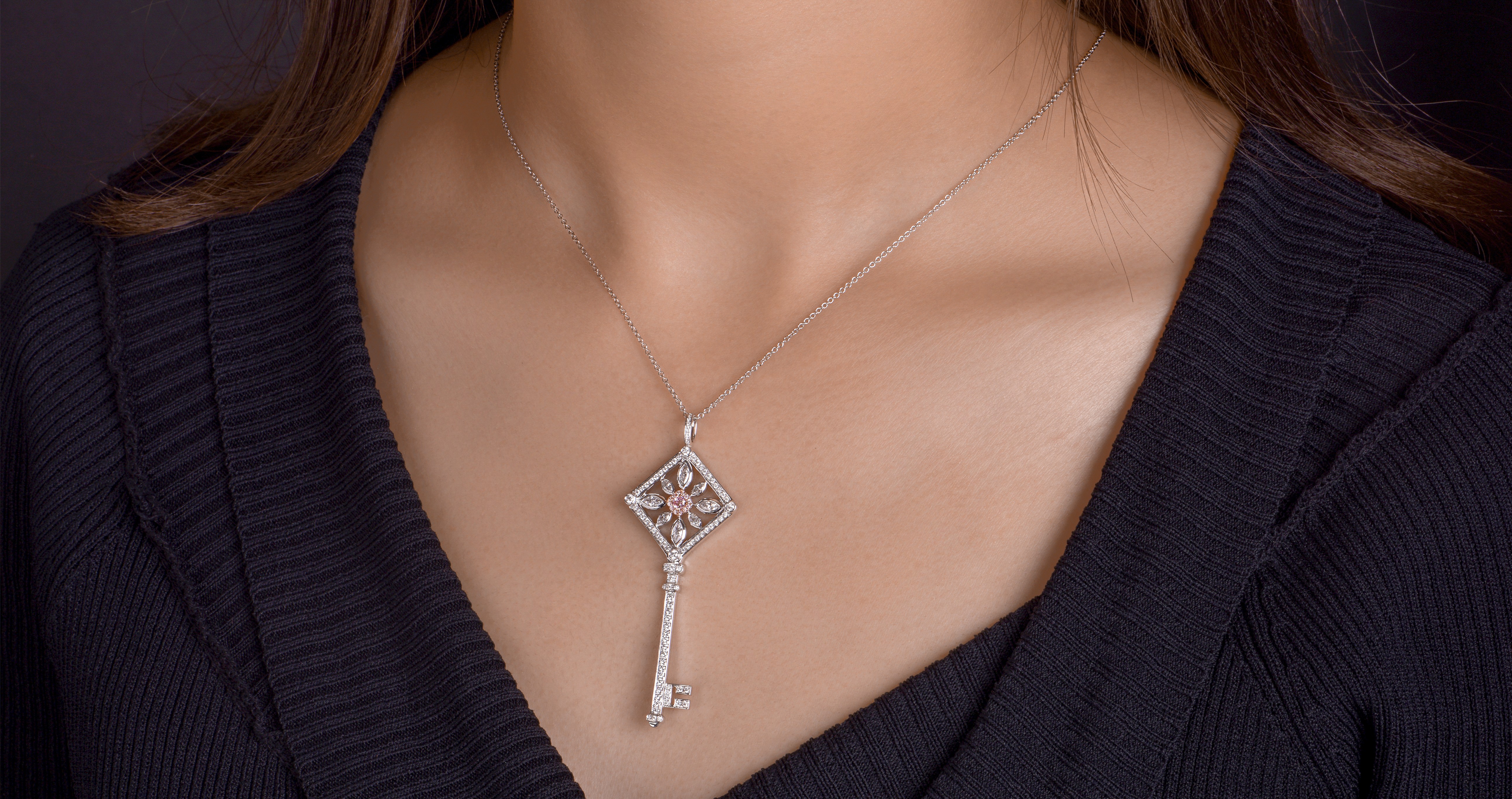 Grace It With A Necklace
Earthy and natural, Asteria Diamonds has a collection of diamond-studded necklaces that encapsulate the trends for this season. Designs that bring together fashion and fuse them with easy to wear comfort is what the season and this blog focuses on.
Glitzy jewelry should not only be effortless but must also sparkle with elegance. Diamonds are an apt choice, as they easily grab your attention with their varied range of colors.
Talismans and Medallions are gracing necklines everywhere. From the street fashion in NY to the runways in Paris, circular talismans that originated in the 17th century is still being used to bring luck ward off the evil eye.
Studded with four Fancy Yellow Heart shaped diamonds that amount to 1.32 carats, this talisman merges together an intricate network of diamond-studded flowers.
Signifying renewal and freshness, this 18K white gold talisman will undoubtedly radiate warm love.
A splendid choice for a present, a talisman is a known to bring good fortune.
If you fancy a more dainty option, fret not, because fine jewelry does not always have to be heavy and over the top.
With a delicate pendant like this Fancy Yellow, 1.66-carat cushion, it blends well as a layered option.
Bezel set diamonds that are strung together into the 18K white gold necklace, only elevate your style making a statement.
Studded with 100% naturally colored diamonds, our jewelry is ethically sourced and comes supported with reputable certificates.
Each piece, hand picked by designed by a team of experts, aim to offer you a variety you would not want to miss.
If sleek chains and blooming pendants are more your style, then our 5.11 carat, F colored, round brilliant white diamond would be right up your alley.
Studded with black and white diamonds accents that add a little monochrome magnificence, this pendant is in full bloom. Reminiscent of an era gone by, this rock solid color combination gives the flower a breath of fresh air.
Twinkling keys are reemerging into fashion.
With little utilitarian effectiveness, they add layers of modern elegance with no effort at all.
An essential trend from SS18 collections, keys studded with diamonds, truly offer everyone a choice.
Set with a 1.25 carat Fancy Pink cushion at its median, this edgy yet classic key pendant from the Asteria Diamonds collection will meet the layered necklace guideline.
Surrounded with impeccably matched diamonds that add the needed sparkle, the 18K white gold key suspends on a gracefully thin necklace that can be paired with anything.
At the top of most wish lists is always the safe, well played cascading pear. A shape that gracefully sits at the base of the neck, adding both glitter and charm.
Like this pendant that features a Greenish Yellow pear weighing 2.31 carats and is surrounded by a double halo.
Together with the interwoven and durable 18K white gold chain, you have a necklace that will bring any ensemble together.
With small yet powerful pendant choices find yourself a design that illuminates your skin adding to your myriad of features.