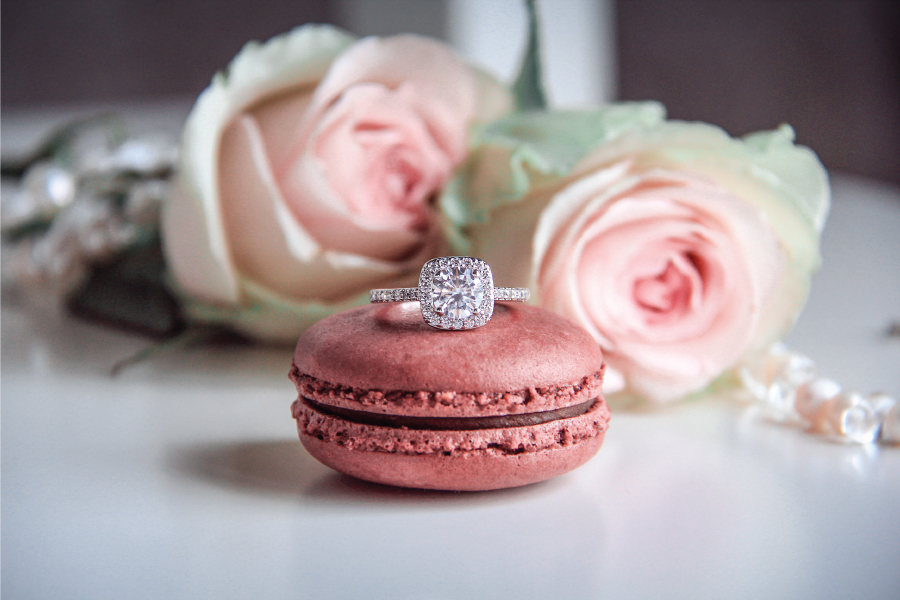 Expert Tips for Choosing the Right Engagement Ring Size
You've found the ideal romantic partner, and now it's time to choose the ideal engagement ring—which includes determining the ideal fit and engagement ring size.
What is the perfect fit? The idea is to have an engagement ring that is comfortable to wear for the most of the time, while still showcasing the style you love.
The problem is that our fingers change size over time. In the summer, a ring may fit snugly on your finger, but in the fall and winter, it may spin or move. Cooler temperatures force our fingers to contract, whereas heat and humidity lead them to swell.
The weather isn't the only thing that influences the fit of an engagement ring. Inflammation caused by salty foods and water, and life events such as weight loss and pregnancy can alter ring size quickly (and often) too.
For years to come, your diamond engagement ring will be the topic of attention and conversation. How can you know which size is right for you when there are so many things to consider? Keep reading for expert guidance on selecting the right engagement ring size and fit.
How To Measure for an Engagement Ring
There are several methods for determining your ring size, but only a few are widely used: using a mandrel, which is a piece of ring-sizing equipment, or using string or ribbon and measuring tape. The tool you employ is entirely dependent on your circumstances. Here's a look at two approaches to determining engagement ring size:
Mandrel Method
A mandrel is a tool with a cone form that gradually grows in size. Bring one of your rings to a jeweler to be measured, or try on rings to determine the appropriate size. Once you've found a comfortable fit, use the mandrel to confirm your size. This strategy works the best if your engagement isn't a surprise or if your partner wears a ring on their ring finger that you can sneak off with to go to the jeweler.
Ribbon and Ruler
This DIY ring sizing procedure is ideal for surprise proposals or at-home sizing. If you're planning a surprise proposal, wrap a ribbon or string around your son to be fiancée's ring finger or the inside of their best-fitting ring. Make a mark on the ribbon where one side meets the other. The ribbon should then be placed next to a ruler or measuring tape. Re-measure for consistency. Use a free online conversion table to get the correct ring size after you know your measurement.
You've determined your ring size and are preparing to show off your engagement ring. However, how can you tell if your engagement ring is too big or too small? Consider the following questions if you're unsure:
Does your finger feel pressured when you are wearing the ring?
Is your ring moving or spinning on your finger?
Is there an impression or indent on your finger from your ring?
If you're 'suffering' any of the aforementioned symptoms, your engagement ring may not be fitting properly. Consider, however, as we mentioned earlier, that certain problems may only be transient before you go in for resizing.

Before getting your ring resized, keep the following in mind:
What's the best way to stop my ring from spinning and turning?
Is your ring driving you nuts as it spins around your finger? It could be due to a weight imbalance between the center stone and the band. It's also possible that your ring is too big.
What are the signs that your engagement ring is too big?
A ring that constantly rotates and moves on the finger is the surest evidence of an oversized ring. Using a ring guard to tighten your engagement ring is a temporary solution if you are pretty sure that the loosening is due to cold weather, which happens a lot. It's also a good idea if your fingers swell at certain times, as having it permanently resized may lead to it not fitting when they do.
Is it OK for an engagement ring to leave an indent?
A good engagement ring fit is one that slides easily over your knuckles. Not all fingers, however, are created equal. Someone may strain to get a ring to fit over their knuckle, only to have it spin around all the time. Another person might have no trouble fitting it over their knuckle, but it will leave an indent. One of the simplest methods to tell if a ring is too small is to look at it.
Is it advisable to size up or down a ring?
Because we're all different, most of us don't fit into a precisely proportioned container. Is it better to size up or down your engagement ring? This choice will be based on whether your ring moves a lot or feels too snug on your finger. The truth is that you can always size down, but it's much more difficult to size up a ring.
The most important thing is to try on your ring for a few minutes and notice how it feels. Do you have a tendency to move it to your pinky finger? If that's the case, you'll need to size up, which entails having material added to your ring by a jeweler.
Do you find yourself rotating your ring to face up all the time? Then you should size down, as the jeweler will have to reduce material from your ring. Keep in mind that while the majority of engagement rings may be resized, not all wedding bands can.
This is especially true for eternity rings, which often include stones that run the length of the shank, making resizing extremely difficult. Check with your jeweler about their resizing policy before making your purchase.