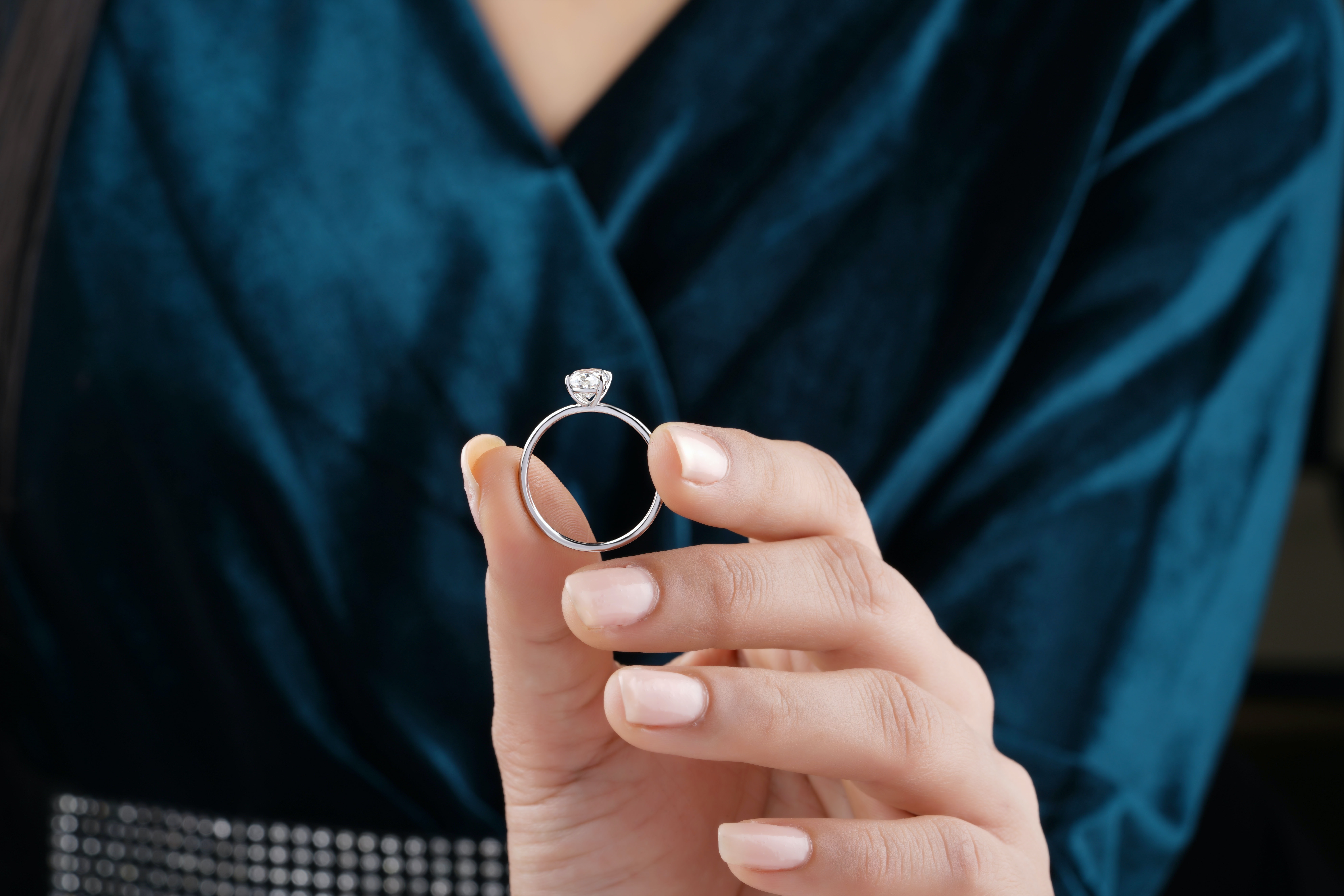 Guarantee The Right Fit On Their Hand With Our Engagement Rings for Active Lifestyles
We heard you're planning on getting down on one knee and calling the shots for wedding bells! Congratulations!
However, there's one small problem– your partner has an active lifestyle, and you're worried that they might accidentally lose it by moving around too much. We understand that worry.
That's why if you or your partner does a lot of hands-on work every day, you might want to choose a more durable style of engagement ring.
But that doesn't mean you have to give up sparkle, though.
Engagement rings for active people can be just as modern, flashy, or unique. It's just all about finding the right ring and the right store that has it for you.
Luckily, you've found us. Here at Astteria, we offer various engagement rings for couples looking to be wed.
We also provide custom diamond jewellery services if you want a personalised engagement ring for your partner.
You can look through our catalogue of unique engagement rings now or read on to find out more.
Factors To Consider For Your Ring
The Setting
When considering hand mobility, an engagement ring's "girdle" (the exposed edge of a cut stone) may look like the most vulnerable area.
In truth, the setting holds most of the cut stones that aren't flush-mounted in an engagement ring in place, so that's what you should pay close attention to.
So it's either prongs, bezel, or channel. Learn more below:
Prongs
Prongs are made of thin metal that bend up and around a stone regularly, with an interior edge large enough to grip a stone's girdle.
The prong edge can snag and flex on garment threads, objects, and more, making it the most vulnerable of the three designs discussed here to damage and stone loss.
Even if two or more prongs are compromised, their safety is at risk if enough force is exerted. Always shift your hand backwards (toward the snag) when a ring gets tangled in its setting prongs instead of trying to twist or tug it free.
Bezels
Bezels encircle the entire stone completely.
Consider them a fence that wraps around the stone's girdle and curves up around the stone's top edge. Although some designs may incorporate patterns or a different precious metal for contrast, bezels are often part of the ring and setting.
It is the most secure of the three options here, as the stone is held in place by the band's surface.
Channels
On the band's outside edge, these serve as "caps" for cut stones that go from top to bottom in a continuous row. They are most commonly found in eternity-style engagement rings, which have all of the band's stones covered.
Edge-to-edge, these stones are held in place by open channels that curve around the top and bottom of the structure. Flush-mounted stones create a brilliant, uninterrupted surface securely held in place.
As a result, the stone's surface is visible, yet this design is still safe and reliable for those with active lifestyles.
The Metal
The metal used to make an engagement ring plays a vital impact in its longevity.
Choose one popular precious metal over another to make your ring even fitter for an active lifestyle. Popular precious metals are not all equal in this regard. Gold, platinum, and palladium are modern rings' most common precious metals.
Gold
Gold is a yellow-toned valuable metal with a Mohs scale hardness of 2.5 to 3. In addition to 12k, 14k, 18k and 20k, it is also available in 24-karat.
24-carat gold is pure gold, with no other metals present. The fineness of the entire metal alloy is measured in karats; a 24-carat gold, for example, contains 100% gold.
When it comes to gold karats, the lower the number, the more pure the metal. The fineness of the alloy used in engagement rings is 18k, which makes the ring more flexible and vulnerable to damage from nicks and dents.
Platinum
The fact that it is significantly more durable than gold (Mohs scale hardness 4 to 4.5 out of 10) is a significant factor in why white gold is alloyed with it.
In terms of annual output, gold mining is around 25 times more than platinum mining; thus, it is a pricey alternative. There aren't many shades of platinum; it's usually only seen in silver.
Palladium
Platinum is the most durable among the most widely used valuable jewellery metals (Mohs scale hardness 4.75 out of 10). Because of its lower density than platinum, palladium is a more economical metal for engagement rings.
As a result of its inherent sheen and lustre, it maintains its silvery-white tone over time without becoming less vibrant. Durable palladium does not require rhodium plating to maintain its lustre, unlike white gold alloys, which require it.
Here at Astteria, we consider these factors meticulously because we want to offer the best engagement rings for people with an active lifestyle. So if you already have that engagement ring idea, why don't you talk to our experts about it?
Tips From The Diamond Experts
Here are some tips our professional diamond curators and jewellery makers have come up with when it comes to buying an engagement ring for your significant other that has an active lifestyle:
Diamonds Are Your Best Friend
The hardest substance known to man, a diamond, has a Mohs hardness grade of 10/10. It's the ideal material for active couples' engagement rings and wedding bands. Alternatively, you can choose ruby and sapphire if your significant other enjoy a splash of colour. They're thesecond-most durable gemstones, scoring a nine on the Mohs hardness scale.
Choose a Bezel Setting
Bezel-set engagement rings are particularly appealing for several reasons. To begin with, it has anultra-sleek and contemporary appearancewhile stillretaining the stone firmly in place.
In this particular setup, the gem's edges are shielded from damage and chipping by a rim of protective metal. This dramatically decreases the chance of damage. You won't have to worry about your sparkler catching on anything when you wear a bezel-set diamond ring.
Be Smarter About Your Prongs
The jewel is held in place by tiny metal segments called "prongs." The prong setting reveals more of the gem's natural brightness because it uses so little metal. A six-prong solitaire ring setting over a four-prong one is the best option if you want to go with this style. The additional two prongs will give greater safety.
Additionally, they'll be pretty helpful if one of the prongs is bent. Platinum can be used as metal if you want it to be even more failsafe. It's one of the strongest metals, so your prongs are less likely to bend or shatter.
Rings with a Wider Band Are Ideal
In addition to having a traditional aesthetic, wide band engagement rings are also very comfortable. It's also a good idea to go with a wider band because it provides greater support for the centre stone. They're ideal for partners on the go because they can withstand more wear and tear and won't bend as quickly as thinner bands.
If You Have the Money, Consider Platinum
Platinum is one of the most durable precious metals used in jewellery. And engagement rings made of this metal are ideal for partners with busy hands since they can withstand solid knocks and rough use.
Although platinum is more expensive than gold and silver, it is still worth the investment. The diamond's brilliance will be enhanced, and its dazzling white lustre will not be dulled by frequent use. Additionally, it is hypoallergenic. Consequently, you should use this metal if you have sensitive skin or allergies.
Consider a Channel Setting Instead of Paving
Understandably, you'd prefer more sparkle in your engagement ring than a simple solitaire. If this is the case, we recommend avoiding side stones that are pave set because the small prongs in this setting can easily be loosened and cause your accent diamonds to come out when worn rough.
The diamonds and gemstones in a channel setting are more secure because they are sandwiched between two thin strips of metal, making them less prone to falling out.
Find One With Smoother Edges
The princess, pear, and marquise cuts of gemstones have sharp points and corners, making them more likely to snag on clothing and hair. Their sharp edges are also more susceptible to chipping and breaking.
Smooth, round edges make them less likely to snag and are more durable when banged around, making them the ideal gemstone shape for those who lead an active lifestyle.
Finally, remember to treat your ring with respect. Before indulging in any strenuous physical activity, remove your sign of love. Also, if you're rough with it, we recommend checking it up by a competent jewellerevery six months.
The Choices You Can Go For
Bezel settings are a super-sleek technique to hide the corners of a diamond, making them ideal for jewellery. Low-profile engagement rings like the bezel setting protect your centre stone by completely enclosing it, allowing the brilliance of the diamond's facets to shine through. Meanwhile, a solitaire is a clean stone that guarantees no slip from your band.
Diamonds are more securely held in place when the band's width is greater. When it comes to engagement rings, this is one of the more discreet options. Plus, we adore the bezel shine on the sides of this particular ring!
It's important to remember that broader bands look better on people with larger hands, while smaller hands may feel overwhelmed by them.
Diamonds line the bands of channel-set engagement rings, just as they do in pavé-set rings. Because the diamonds are held in place without prongs, they will not snag on clothing. As long as you add a low basket, these rings will join you on all your travels.
Of course, these are just some recommendations. The best engagement ring is still the one your partner likes and is comfortable with.
A Ring For A Special Occasion
A ring's style, size, and shape should always reflect the wearer, especially an engagement ring. Wearing a cocktail ring or a costume jewellery ring of about the same size in place of the real thing can help whenever doing the extremes.
Either way, your ring should spell "I love you" to your partner and what better way to do that than to pick a ring that suits them best.
Whether you are looking for a ring as outdoorsy as your partner or just want something low maintenance, Astteria has it for you.
Simply browse our catalogue here for our list of engagement rings. Make your choice today and buy NOW.
FAQs
Are there times I'd have to take off my bezel diamond ring?
These rings are meant to be worn wherever you go in life. There are, however, a few scenarios in which an additional level of caution is necessary, such as building a rock wall or climbing.
The beach is another place where the jewellery should be left at home. Because metal detectors are used to search the sand, rings are more likely to fall off fingers when wet or chilly.
Can a bezel ring be set with a coloured gemstone?
Definitely. Many of our bezel-set sapphire and tourmaline rings can be viewed online, and many of them are available for purchase. It would be an absolute pleasure to collaborate with you on any custom project, no matter how exact your preferences may be in terms of gemstone and ring style.
Will my diamond's brilliance and clarity deteriorate if it's set in a bezel ring?
Absolutely not. Light enters from the top, reflects off the lower facets, and returns through the top in a burst of fire and light. This is how diamonds are cut. The brilliance of a diamond is unaffected by its setting.